KSC's Film Society prepares to celebrate its golden anniversary
Keene State College's Film Society is preparing to celebrate its 50th anniversary year and has some activities planned for the fall.
Ana Carolina Costa, the President of the Film Society, explained choosing the films that have brought an abundance of students to their meetings. "We choose our films on Wednesdays," Costa said. "We have a two-round system with voting. Members bring in blu-rays or DVDs that they want to watch that week and we list them all off."
From there, members each get two votes and choose two of the movies from that list. The films with the highest scores get voted for at the second round and the winning film is the one the club watches that meeting.
Most recently, the group watched the movie "Mac and Me," which Costa said was, "Basically a spoof off of [E.T.]…and was a really fun time." The screening of that movie made Costa really happy to see people laughing at the screen and enjoying their time with the club. For their weekend screening, the Film Society planned on watching "Riders of Justice."
Other events for the academic school year include the celebration of the club's 50th anniversary. Costa says, "We're still in the phases of planning to have some sort of celebration for our 50th anniversary."
Along with that, Film Society treasurer Wyatt Codd has some upcoming ideas for the upcoming Halloween season. "[There are] lots of horror movies planned, couple costume parties, and costume contests," Codd said. The group also plans to have a "Rocky Horror Picture Show" screening along with decorating the Putnam Theater and also hosting some giveaways.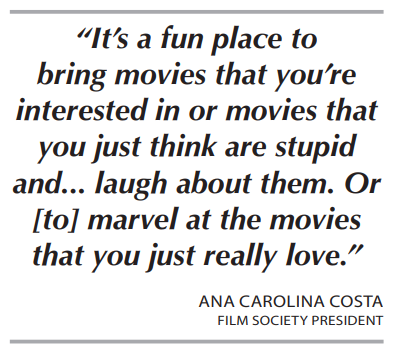 Codd has also put some thought into the club possibly doing an activity or going to events off campus. "I've been thinking of taking everybody out to field trips to watch new movies and stuff like that," Codd said. Costa said that an opportunity to do something fun with the club off campus would be cool and is open to the idea.
Costa and Codd believe that Film Society is for anyone who enjoys film and spending time with others who also share that interest. "I think that anybody who's interested in film should at least see what Film Society is all about," Costa said. "It's a fun place to bring movies that you're interested in or movies that you just think are stupid and… laugh about them. Or [to] marvel at the movies that you just really love."
Even just a month into the academic school year, the Film Society has seen a high number of people attending their meetings. Costa said, "Now with everybody being back on campus, everyone's just really thirsty for something to do and the thing that we do is really, really fun and different."
For any Keene State students interested in joining the Film Society, meetings are held every Wednesday at 7:00 p.m. in the Putnam Theater. Weekend screenings $2 and are free to those who officially join the Film Society.
Film professor Irina Leimbacher did not respond to The Equinox's request for comment.