KSC music department holds its first event of the year
KSC music department holds its first event of the year
Pianist Andrei Baumann performed in the Alumni Recital Hall on September 24 as part of the music faculty performance series.
In front of a live and virtual audience, Baumann performed the works of Ludwig van Beethoven, Johannes Brahms, Johann Sebastian Bach and more. Baumann said the pieces are some of his personal favorites to perform.
"This is all music that I just really love playing," Baumann said. "Some of it's old music to me, some of it's new music."
Baumann also selected pieces that were in the same general key to link the pieces together to create a uniform program. "This program, a lot of the music is just related through keys…. Yeah, so it's a lot of flat keys, basically," Baumann said.
This year, more performances will be available in-person for larger audiences. While masks and social distancing will still be required, in-person performances are coming back to campus. Baumann said he is looking forward to performing in front of audiences again.
"I'm really excited to be performing again. I was performing during the pandemic, but obviously, nothing beats playing in front of people," Baumann said.
This semester, Baumann is joining the team of music department faculty to teach the piano students. Baumann is filling in for professor Dr. Christina Wright-Ivanova, who is on maternity leave this semester.
"Dr. Wright is a good friend of mine, we went to school together at the New England Conservatory in Boston," Baumann said. "[She] asked if I could take over and I was definitely happy to do so…. I love coming up to New Hampshire, so it was kind of a no-brainer to me."
Music department chair Sandra Howard said Baumann's skills as a performer and an educator led the department to selecting him. "We worked as a music faculty to identify a pianist who was equally an effective teacher and a prolific performer, and professor Baumann hit both of those requirements. So we're really excited that he can bring his expertise to the music department," Howard said.
Baumann's performance was the first event of the year for KSC's music department. The performance, like all other music department events, was also to raise awareness for Keene State's All-Steinway campaign, a multi-year initiative dedicated to providing better equipment for music students to advance their education. The end result will be the purchase of 20 new Steinway pianos for the college. "Our big goal this year is to raise funds in the amount of about $200,000 to buy a new Steinway grand piano for the Alumni Recital Hall," Howard said.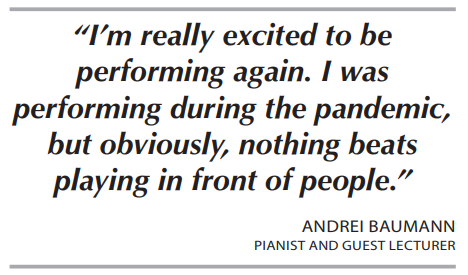 Howard added, "This is our first event of the year and it's a great way to highlight our piano initiative to become an All-Steinway school, because it's our last year, and then we should have all of our pianos in place to be fully recognized."
The music faculty performance series will continue on October 17 with a performance by Trio Mundo, a musical ensemble featuring music faculty members Jose Lezcano, Rebecca Hartka and Marcia Lehninger.
For more information about other music events, concerts and recitals, visit the Redfern Arts Center website.