A new business in Keene aids international and domestic students alike in exploring culture through food.
The Keene International Market, located on Emerald St., is an international grocery store, carrying foods from Asia, Latin America, Europe, The Middle East, Africa, the Caribbean and other regions of the world. The owners of the market, Chuda Misra and Jennifer Carroll, opened it to help members of the Keene community find food from their culture closer to home.
"When we moved to this region, every time we would meet somebody at events, the conversation always comes around to 'Oh, where are you from? How far do you travel for food because you're finding that you couldn't find things?'' Carroll explained.
The idea for the market, which displays the slogan "All bellies welcome," came from a survey that Misra and Carroll conducted at the Keene International Festival in 2019. They asked people from different cultural backgrounds what foods they missed most and how far they traveled. The answers made the now-owners of the market realize that something needed to be done.
Misra was born in Bhutan and grew up eating Nepalese food. Keene State College also has a number of students from Nepal because of their connection with The Little Sisters Fund. According to their website, the goal of The Little Sisters Fund is to help "Nepalese girls to become empowered leaders through education, mentoring and community support."
Slesha Tuladhar is a junior architecture and SPIDI major at Keene State as well as a mentor for The Little Sisters Fund. Before coming to Keene, Tuladhar lived in Nepal. She explained how difficult it can be to live far away from access to food from her culture. "I have been [in Keene] for two years and being here the entire summer is kind of painful because I don't have a car and I can't drive to Concord or Manchester where I can find a market," Tuladhar said. "But now, I just can't believe that I can see things from home… It's exciting."
Smriti Gurung is a sophomore at Keene State and while she was born in Nepal, she grew up in Hooksett, NH. Gurung explained that Keene International Market is not only important for students from other countries, it is also important for Keene because it adds to the sense of community.
"It gives people here in Keene the opportunity to try foods from different cultures, but also learn." Gurung said. w You are also supporting a local business and shopping local which is awesome."
The Keene International Market is a small local business which means that getting foods from other countries can be very difficult for them. The COVID-19 pandemic has only made this more difficult as countries with high infection rates are not shipping foods. Carroll said they have also had to battle products getting stuck in ports and higher shipping costs. Misra also travels often to places where access to the global market is more accessible than in Keene.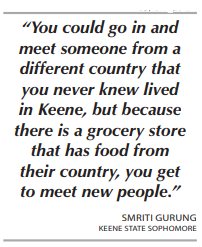 "We knew it wouldn't be easy because nobody's delivering up here," Carroll explained. "My husband travels to New York, Boston, New Jersey and we work with about 20 different distributors to try to find our products… We find things that people really like and then we can't get it again because everybody is out of the same product. It's been like 15 to 18-hour days trying to figure out what to do right now."
Though it has been difficult, students at Keene State agree it has been worth it. Junior Sarah Newell said the market plays an important role in promoting diversity in the local community. "It promotes another aspect of diversity, which is food," Newell explained. "[The foods] are more available. Here we stick to a pretty strict diet of American foods, especially at the DC, so people's taste buds aren't accustomed to foreign food. It is very helpful that there is an international market so there is that option if they want to try other cuisines from other countries."
Carroll said she has also found that people are excited to stay local for shopping for international foods. "What we want is to let people experience new things and for other people to have their cultural traditions stay with them, even if it's in an area they wouldn't expect."