Tom Benoit
Equinox Staff
If you've recently walked down Appian Way, you've probably noticed the brightly colored signs with Greek letters. It's recruitment week for sororities here at Keene State.
"Recruitment week is basically the week where girls have the opportunity to come and learn about sorority life and see if they are interested in joining a sorority!" Panhellenic Council President Kylie Hull explained. Hull went on to explain the process of recruitment. "The first three days of the week you meet with the Panhellenic Council beforehand and then go through three different organized rotations to view the different sororities on campus. The reason we do these rotations is that it gives interested girls the opportunity to see all of their options. There is then a preference night hosted by each sorority where an interested student could come and learn about why the current members of the sorority chose to join themselves. Then at the end of the week, if you decide you are interested in joining one of the organizations, you would go and final sign with them. Final signing is you basically saying you are interested in being a part of that sorority. Following that comes instruction from the specific organization and the journey begins!"
. "Joining Greek life is a great way to make friends, find your home away from home, learning new leadership and networking opportunities. Not to mention the professional relationships you create and the community service involvement," Hull said.
Delta Xi Phi president Emily Foy said,, "Joining a sorority has helped make me, and so many other people I know have become so much more confident and more involved on campus! Being surrounded by other empowered and strong females helps create an environment that encourages others to be their best."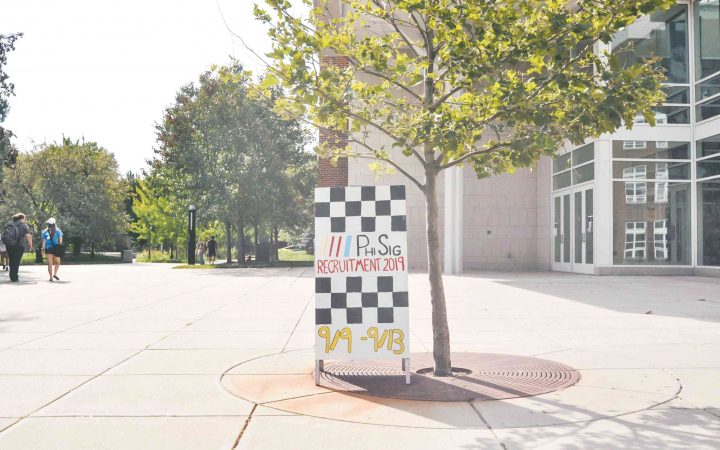 Despite the stereotypes of sororities, one of the main focuses of sororities at KSC is philanthropy. Foy described the local and international charities her sorority is involved with."Delta Xi Phi's national philanthropy is the American Cancer Society. Throughout the year we also raise money for Hope's Lodge, which is connected to the ACS and houses those receiving cancer treatment. There are also several causes close to our member's hearts that we like to donate time and money to like local women's shelters, the humane society, and any local events needing assistance," Foy said.
This week isn't just about current members; it is largely about the potential new members. "I come from a big family, and a lot of my family was involved in Greek Life during their college years. I would like to have that big family feeling while in college as well," explained Emma Spangler, a first-year who was considering joining a sorority.
First-year Ali Johnson said this week was full of excitement.  "I'm looking forward to broadening my horizons, making new friends, meeting new people and doing new things with new people," Johnson said.
Of course, one thing remains unanswered: how does one properly do the sorority squat? Emily Foy explained, "To truly know how to do the sorority squat, you've got to join to find out!"
Tom Benoit can be contacted at tbenoit@kscequinox.com