Cailla Prisco
Equinox Staff
Keene State dominated at the Little East Conference (LEC) Track and Field Championship this past Saturday hosted at Fitchburg State, with the Women's team placing second and the Men's team placing fifth.
According to Keeneowls.com, the women claimed eight first place finishes as well as broke three Keene State school records.
First-year and multiple LEC rookie of the week honoree Shannon Parks won first place in the shot put with a total of 12.05 meters. This score broke an eleven-year school record originally held by Bryanna Brown. According to Little East Sports, Parks has previously been named outdoor field rookie of the week three consecutive times in the last month.
Junior and dual athlete in track and soccer Nicole De Almeida placed first and broke a sixteen-year-old record at KSC in the 400 meter hurdles with a time of 1:05.93, which was originally held by Shannon O'Brien.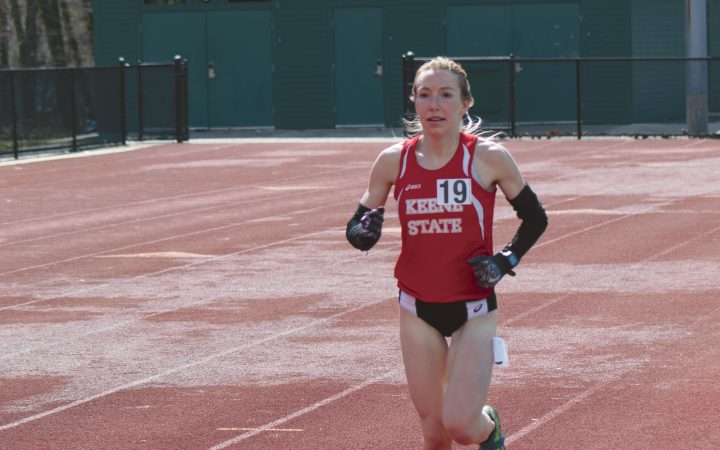 A Keene State Owl that has been making big strides this year, according to Keeneowls.com, junior Lauren Perkowski, took home two first place finishes in the 5,000 meter and the 10,000 meter races. Perkowski also competed in her third cross country season earlier this year, making it as far as NCAA Regionals at Bowdoin College.
Senior and dual athlete Taylor Bisaillon finished first in the javelin throw at 35.18 meters.
According to KeeneOwls, the women's 4×800 meter relay team made up of Laura Dawson, Brittany Gravallese, Lynne Hebert and Chloe Page won in 10:13.61 minutes.
The women also had many top 10 finishes including Brittany Gravallese placing third in the 800 meters with a time of 2:28.55, and Lynne Hebert placing sixth in 2:30.93, Skyler Gauthier placed third in the 100 hurdles in 16.95 seconds, and Alana Olendorf was second in the steeplechase in 12:25.97.
Sophomore Erin McNemar, who is also the Managing Executive editor at the Equinox, placed third in the high jump and Parks placed second in the discus.
The lady Owls followed behind Rhode Island College, who placed first with a total of 182 points.
The men also had some great outcomes with Senior Jared Hannon breaking a KSC school record for the long jump in 7.14 meters. The record was previously held b
y Frank Radlof in 08'.
Angel Rameriz placed first in the 200 meter with a time of 22.82 seconds.
First Year Joey Fodor placed second in the javelin throw with a distance of 59.74 meters which places him at the thirteenth spot nationally.
The Men's team placed fifth with a total of 62 points.
Keene State will compete in the New England Division III Championships May 3 and 4 at Williams College with a 10 a.m. start time.
Cailla Prisco can be contacted
at cprisco@kscequinox.com