Jacqueline Pantano
Arts & Entertainment Editor
On Tuesday night, students gathered at the Night Owl Café for Paint Night. Paint, paintbrushes and white canvases were there waiting for them.
Events coordinator Jennifer Mejia said these events are greatly appreciated by the students.She said the last time they had a similar event, many students came and enjoyed it very much. The theme for this paint night was Valentine's Day.
Senior Angela Jenks was instructing and following along with the students while they reproduced a painting of hers. The painting was Valentine's Day themed. Two birds kissing on a tree.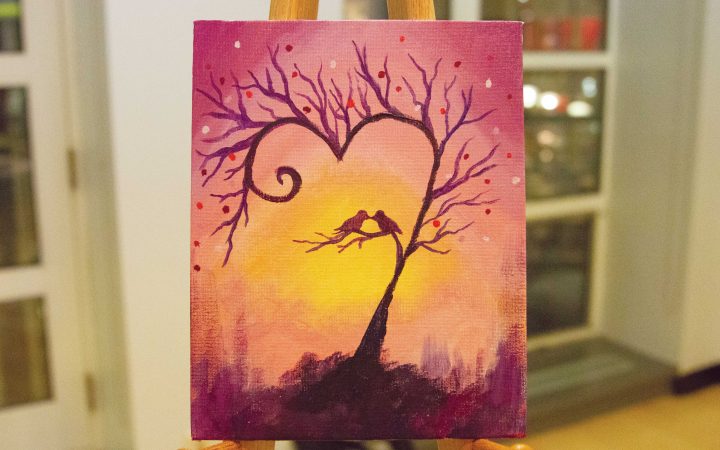 "[It is a way] to destress from school and all the work we all have to deal with on a daily basis," Mejia said. She said it's important for student to have free events like these. "A lot of people don't like partying… not a lot of people can go to a paint bar if you are underage, [or] don't have enough money," she said.
Jenks said, "It's important for students to get involved around campus and to do things that make [them] uncomfortable. Get out of [their] comfort zone… I love seeing people that don't do art. It's nice giving them feedback on how they can improve and seeing where they go from that feedback."
Jenks is a graphic and studio art major. She works in the office of student involvement and designs the posters for the events taking place in the Student Center. Jenks added that working on an art project is a very good way to relieve stress. It's one of the reasons why she likes studio art.
Students had positive opinions on the event. Sophomore Kirsten Somero had never attended a paint night before. She just transferred from a community college and said she is very excited to be able to participate to events like these. When asked if she would come again, Somero said, "Definitely… it's fun… [It makes you] feel like you are actually part of the college." Sophomore Kelsi Lord was happy she could fit it in her busy schedule. She said likes to paint and likes participating in events like these. Sophomore Bella Nunziata said she likes painting very much. She likes coming to events like these. She said, "It brings people together, it's calming… it breaks up the day".
The line of students went all the way to the hall in front of the Night Owl Café. Students were chatting, painting and enjoying the refreshments provided by the event organizers and the NOC. The event was successful.
Mejia invited students to attend the Social Activity Council meetings at 6 p.m. on Thursdays in the Madison Street Lounge. She said they love to know what students are thinking. They are trying to provide the best events and activities for the student body.
Jenks will be helping students at another paint night on Feb 24. This time, there will also be karaoke. Students enjoy these events. Art is a good way to relieve stress.
To contact student involvement, email studentinvolvement@keene.edu or call 603-358-2662.
      Jacqueline Pantano can be contacted at
jpantano@kscequinox.com