How KSC is safely celebrating American Archives Month
October is American Archives Month. To celebrate American Archives Month, Keene State College's Mason Library sponsored Archives in Context, a series of online conversations related to preservation and archiving.
On Wednesday, October 27, KSC alum Daniel White spoke as part of the Archives in Context series. White talked about his work organizing the Florentine Film Archive, a set of original film footage from Florentine Films and filmmaker Ken Burns.
The goal of the Florentine Film Archive is "to reconstitute as many interviews as we can from past films," White said during the webinar.
Keene State College Archivist Rodney Obien moderated the program. The Archives in Context series started in 2020 as a way to celebrate American Archives Month in a COVID safe way, Obien said.
"We were in the midst of a pandemic last year, we still are, and so many of us weren't able to go to conferences and so forth, so I decided to make a Zoom series where everyone can go and we could talk about archives, preservation and culture," Obien said.
Archives in Context focuses on Vermont, New Hampshire and the Connecticut Valley region, Obien said. By doing so, it localizes the program to the archivists in the college's own backyard. "Who would know there's so many interesting people in and around the region that's maybe not so obvious," Obien said.
Obien said there is no one definition of what it means to be a film archivist, but described it in terms of film archiving at Keene State College. "At Keene State College, being a film archivist means that you are caring for, preserving [and] curating an archive of close to 1,000 reels of film, anything from eight millimeter, 16 millimeter to 30 millimeter and 35 millimeter, I should say, and biggest 70 millimeter film that also includes papers, documenting different films, photographs, audio recordings [and] memorabilia… So curating and archiving and preserving those sorts of things," Obien said.
White said film archiving did not become widely utilized until about 20 or 30 years ago. "Nobody thought of saving these things because it wasn't part of the thought process then," White said in the webinar.
By archiving older films, it allows them to be available for future generations in a more permanent way. Part of film archiving, according to White, is translating these films into good enough quality to satisfy younger generations that have become accustomed to consistent high quality content, especially in films.
"We know that younger people, today, have a much higher expectation of quality… even on their phone, they're seeing 2K in a resolution, they're seeing the fine detail… [Younger people] want to see something that looks good, and we want to reintroduce those films to them," White said.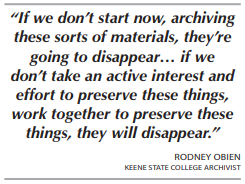 During the conversation, White discussed the importance of film archiving, "There are people who have always known 'no, this is important. Let's hold onto this, let's preserve this… let's try to save this for the generations down the road who won't have an idea for what's happening now'… We wish it had been going on since the beginning of film," White said. Obien elaborated on this importance of preserving these films, "If we don't start now, archiving these sorts of materials, they're going to disappear… if we don't take an active interest and effort to preserve these things, work together to preserve these things, they will disappear."