KSC alumni discusses the ins and outs of owning a music studio
The Keene State Music Department held a workshop Wednesday, September 15th in the Alumni Recital Hall featuring Keene State graduate, JoAnne "JoJo" Mead. Originally from Worcester, MA, Mead received the Outstanding Alumni Award in 2007. Mead held a presentation for interested students about what it takes to operate a private music studio.
Mead has been operating a private studio through her home in Swanzey, New Hampshire since 1996. She has also been active in the community performing with the Granite State Opera, United Church of Christ, and Keene Cheshiremen Chorus to name a few. According to Mead's website, she is a "vocal instructor, soprano soloist, musical director and adjudicator" that holds a Bachelor of Science in Music Education. She is an active member of National Association of Teachers of Singing (NATS), and serves as a vocal coach for area school districts and MoCo Arts. She also had "extensive postgraduate vocal studies with teachers from Boston University and Keene State College," according to Mead's website.
"I credit Keene State for everything that I do today," said Mead. "I've been called upon to do different things. Every so often there will be some kind of faculty recital where they're going to do a piece and they need another strong soprano. So I have a nice collaboration with all of the faculty members here, either working on different projects with them, or inviting me here to do something."
Mead later mentioned that the presentation was made possible by an award she received from Keene State in 2019, the Distinguished Alumni Award. Recipients of the award offer lectures or workshops for Keene State students.
Mead also attributes her interest in music to her late father, who was a violinist that played first violin second chair in the Vermont Symphony, as well as her older sister who used to be a rock singer but later became a jazz performer. "I learned a lot from my sister about how to use my voice," said Mead.
Through Mead's studio, she is able to be a vocal coach and music director for all ages in Cheshire County right from home. "I became a very versatile singer, and through that I am a very versatile teacher," said Mead.
Mead also reviewed the several benefits and downsides of having your own private studio vs sharing a public music studio space. While Mead had to close her studio for a while due to the COVID-19 pandemic, having a private studio made it possible to reopen recently and she was even eligible for a relief check from the state of New Hampshire.
The other benefit of holding a private studio at home, Mead said, is that everything used for business can be considered deductible for a business expense: utilities, toilet paper, instruments, paper, and anything else used for the business.
Mead later discussed how she was able to get her name "out there" to raise awareness of what she does and how she operates. She noted it was important to have a public biography for potential clients to learn a bit about you, an open letter to welcome clients, and a philosophy to share the goals and beliefs as an instructor. She later noted that the pricing should be based on experience and what is being offered.
"Get a feel for what others in the area are charging. Don't charge as much as those who have more experience," said Mead.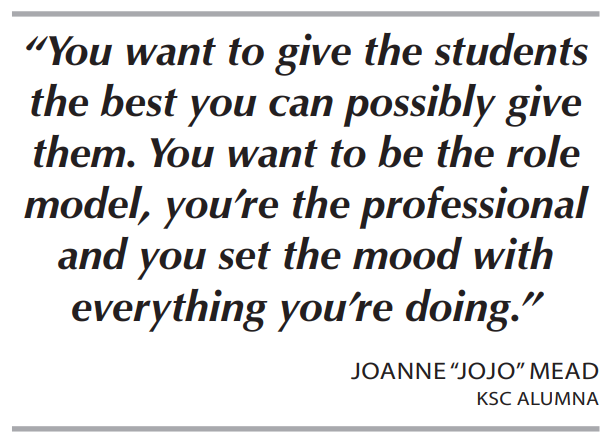 When it comes to meetings with the clients, Mead also mentioned that attitude affects how you make the client feel about you and their experience. "You want to give the students the best you can possibly give them. You want to be the role model, you're the professional and you set the mood with everything you're doing. The way you dress, the way you talk," said Mead.
Mead also noted her specific teaching techniques and tools she provides to the clients, including her practice log that she shared. The last thing she noted was that it is important to know when the meeting time is right and when something should be rescheduled. She used the example of a client who just went through a breakup.
"Your job is not to get in the middle of it, your job is to be their music teacher,'' said Mead. As a teacher, it's important to recognize when the student would not benefit from the session so the meeting can be rescheduled.
To learn more about Mead, go to https://www. joannemeadvoice.com/