William Patti
Equinox Staff
In the harsh winters of Keene New Hampshire, the commute to class can be both dangerous and challenging. As anyone who parks on campus at Keene State knows, parking on a normal day is scarce.  In the weeks after heavy snowfall, the number of spots shrink as snow is piled in parking spaces due to a lack of open areas to pile the snow that's been plowed. With days being warmer and nights being below freezing lately, layers of ice build as the snow melts and refreezes, making it harder to maintain, and even more dangerous for students on the way to class.
A student who parks in Winchester lot who asked to remain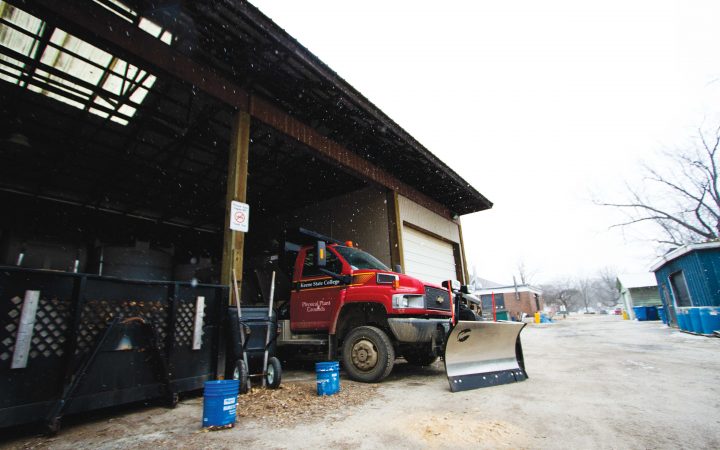 Anonymous said, "When it snows, getting to class is so much harder. The lot fills up fast so it's first-come-first-serve and if you have to park all the way in the far lot getting across without slipping is so hard."
Anonymous added, "I think if they just salted and plowed more extensively it would be safer for students to get to class."
Student Caitlin Perry, who walks to class every day said, "In the winters, the fluctuating temperature, causes them to have to maintain more frequently, I slipped and when I did it was on a patch of ice 4 inches thick…"
The problem for students is more about the ice that forms from refreezing and less about the snow itself.
These students seemed to feel that ice removal needs to be frequent this time of year as ice builds up every night.
Assistant Director of Physical Plant/ Grounds at Keene State College, Bud Winsor said, "If it's appropriate we use a rotary broom, to get any puddles or slush off the sidewalks, if necessary we will retreat, but we try to clean it all the way down to the bare pavement."  he also said, they use a solution of magnesium chloride and an alcohol distillation byproduct on the concrete when a big storm is expected, called 'Magic -0', which prevents the ice from binding to the concrete. According to magicsaltpittsburgh.com this allows the snow and ice to melt and run off rather than forming thick sheets of ice, making for easier removal. In response to whether there was anywhere to pile snow besides parking spots, or if putting it there is a last resort. Mr. Winsor stated that this problem has recently been taken care of and there should no longer be snow in any of the parking spots around campus. So if students are driving to class today they won't have to worry about unusable parking spots making them late. Although some students feel not enough is done to take care of snow and ice, the Keene State Physical Plant/ Grounds crew works tirelessly to improve these conditions and maintain them the best they can.
William Patti
can be contacted at
wpatti@kscequinox.com