On Oct. 18, 2017, 27 letters from Keene State College were sent to Park View Elementary School in Pueblo, Colorado.
Through the No Excuses University Network, KSC orientation leaders and faculty are becoming pen pals with first graders at Park View Elementary.
Keene State alumna Madison Ornes reached out to KSC to do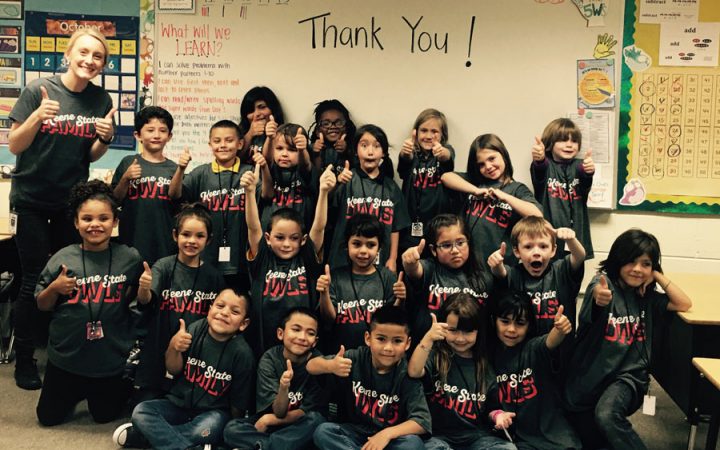 this program. She is currently a first grade teacher at Park View Elementary School. "It's awesome and built a cool culture at the school," said Ornes.
Ornes said Park View Elementary school is a Title I school, meaning it is located in a low income area, and 97 percent of children attending Park View receive free or reduced lunch.
"It made me proud that [KSC was] willing to help my kids out and show them college is an option," Ornes said. She also said it gives the students something to look forward to and makes them work harder.
The first graders love having a connection to a college family. "Family is important to these kids and not all of them have that, we are a family in this classroom," said Ornes.
Inside of Ornes' classroom, there is a dedicated college wall that has a KSC alumni shirt, cap and gown, and the owl mascot. "It's cool for them too because I went there, it makes it more realistic," Ornes said.
The students at Park View were given KSC t-shirts, which they get to wear every Friday. Usually, the student's have to wear their No Excuses University shirts, yellow or blue in color, or a navy blue or black polo.
Former Orientation Coordinator and KSC senior Bailey St. Laurent  helped organize the pen pal program. "It shows a sense of community here, giving back not just to the community of Keene, but spending time promoting our values on a level outside of Keene," said St. Laurent.
St. Laurent said he has plans to do a Skype interview early November to show the students the campus, and to meet Interim President Melinda Treadwell.
Casey Lynn Sowle is an elementary education and psychology major at KSC. Sowle said, "It's awesome to be able to make a connection to someone so far away."
"As an elementary education major, it'll be really cool to see where they are in their literacy," said Sowle.
In her letter, Sowle said she "talked about what [she] want[s] to be when [she] grow[s] up, a few of [her] favorite things and [she] wrote in a green pen because it's [her] favorite color. [She] talked about what [she's doing here at college and asked what they were doing in their classroom."
Maria Aiello is also an elementary education major and math major at KSC participating in the pen pal program. "I want to teach at the first to third grade level, to me it means it's another point of contact and a connection to have across country," said Aiello.
Aiello said if there's one thing that her first grade pen pal takes away from this program is that she is "excited for his future and all the possibilities that he has, and the opportunities that he could take."
Izzy Harris can be contacted at iharris@kscequinox.com