Soccer, and any sport for that matter, is an activity that demands everything from its players: discipline, determination, sacrifice and, in a sense, survival. Some have compared their sport to battle or war. For men's soccer coach Rick Scott, he's experienced both the metaphorical and the literal connotations of war first-hand.
Scott is a Vietnam War veteran who served in the U.S Army from 1968 to 1970. He was a solider product of the draft, and in April of 1968, he and a number of other young men from his hometown of Claremont, New Hampshire, were chosen to be next to fight for their country in the overseas conflict.
Scott said that he had been anticipating the call to duty for some time.
"I knew it was coming, so you were kind of ready for it," Scott said.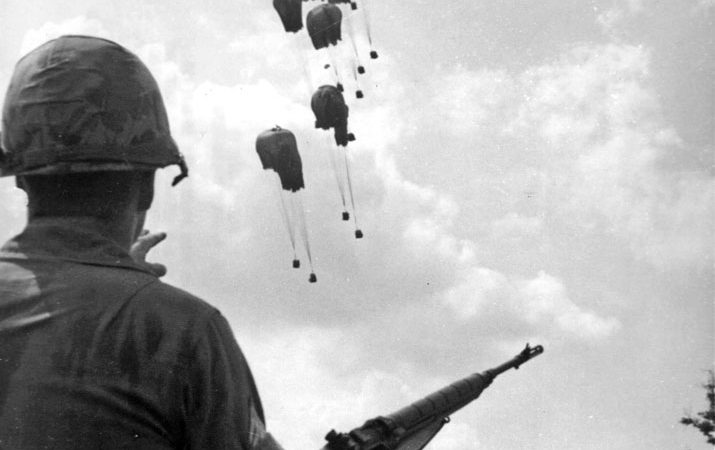 Scott was shipped off to basic training, where he prepared to go to war.
"It was take no prisoners… Back then, it was rough and tough and rough and tumble and you had to survive, you had to survive. You had 16 [to] 18 hour days of training…everything you could think of to get you ready because we all knew we were heading overseas," Scott said.
From there, Scott landed at an artillery school, where he trained on how to work large cannons such as the 155mm and then onto a base in North Carolina, but something happened, which caused him to volunteer to go to the war zone rather than wait. According to Scott, his brother Steve, who is just over a year younger than him, had been sent to Vietnam. Upon hearing that news, he said he went to his commanding officer and filled out paperwork to join his brother and allow him to go home.
To Vietnam
To Asia he went, and when he landed in Vietnam, he tried to connect with his brother after some time. At 3 a.m after Scott had travelled from Cam Ranh Bay to Chu Lai to find him, they finally reconnected. When Scott heard his brother's voice calling for him, he did not recognize it at first, but still the brothers were reunited again.
"That was pretty emotional," Scott said.
From there, Scott said that the two grabbed a case of warm beer, walked down to a nearby beach, caught up on old and lost time and dicussed what their plan was when they got to go home.
The peaceful reunion was short-lived, as they soon found themselves in the face of war. Scott noted he and the rest of the men worked 12-hour shifts, providing artillery support to his fellow servicemen, loading shells and firing them through the night sky of Chu Lai, Vietnam, while also fighting off enemy attacks
Finally, after bunking with his brother for three months, to Scott's relief, Steve went home safely, but the war continued. Scott's tour lasted about another eight months. He said that war is not at all what bystanders might see it as –a romantic tragedy.
Scott said he was discharged from the Army after returning home from being overseas, but he was not necessarily welcomed with open arms by the American populous.
With American citizens angered over the conflict and Vietnam, soldiers often took the brunt of the criticism and were judged harshly by those who opposed the war. Scott was no exception.
Transitioning to coaching
This made the transition from military to civilian life challenging after some time in the workforce. In 1972, Scott came to KSC hoping to pursue a career in physical education and coaching, and there he found a man who he said helped him through a lot of those challenges. That man was former KSC professor and coach Ted Kehr, who himself was a member of the New Hampshire National Guard and served four years of active duty in the service.
Though he had not planned on playing soccer on the college's varsity team, then coach Ron Butcher convinced Scott to join the team anyway, and according to Kehr, Scott showed an affinity and talent for coaching, shown by his maturity, intelligence, discipline and strategic mind, traits he likely honed while in the military.
Still, Kehr said Scott preferred to talk about soccer rather than his days in the Army. He said Scott would rather use his experience to be a leader on the pitch, and that was what he did. In his final two seasons, he captained the team and earned All-Conference and All New England Honors.
"He is, and has been, a team player. His personal achievements are always in the background and give way to the group or team achievements…it's selfless service, if you will," Kehr said.
That affinity for coaching quickly came to life after he graduated in 1976, when Scott began coaching Keene High School's boy's soccer team, while also acting as an assistant coach to Butcher for over 20 years.
Now, decades later and thousands of miles away from Vietnam, Scott said that his days in the military have helped him to develop a number of different values, which he has carried over from combat boots to soccer cleats. One of his greatest values is leaving no man behind on or off the field.
"Number one, and my team hears this all the time, take care of each other… I stress that all the time," Scott said.
Current KSC men's soccer player and U.S. Marines veteran Will Salta said that the discipline and commitment that is expected as a U.S. service member can be seen in the way that Scott runs his practices, and that his method of coaching is a large part of what makes the team what it is.
"He expects perfection, there's nothing less. It is what it is and you do it. You don't slack off, it's either perfect or we're not ready," Salta said.
Still, despite Scott's strict style of coaching and having to go through what he did in Vietnam, Salta said that his coach is a fair man that players can go to for advice and guidance.
"I couldn't even imagine doing what Rick did, so think he's perfectly level-headed. I think he is one of the greatest men I've ever met in my life," Salta said.
Evidence of his time in the service can be seen in his office, hung up above all his awards from his days playing for the Owls in the 70s. It's a Certificate of Achievement award for a score of 497 out of 500 on a fitness test back when he was in boot camp, a nearly perfect score. Scott said that the score probably would have been perfect if he had just "kept his mouth shut" to the man scoring his performance.
These days, when people ask Scott about his time in the Army, he tells them about the lessons he's learned.
"You learn a lot over there, a lot of different things about sacrificing, a lot of different things about commitment [and] a lot of different things about trust [and] bravery…it was really a very strong life-learning experience."
Jake Barrett can be contacted at jbarrett@kscequinox.com