Every winter, the students of the dance department here at KSC put on a Choreography Showcase that is entirely created and produced by 11 dance majors. The auditions are hosted by the students, the cast is chosen by students and the advertising for the show is done by the students. The show is completely cultivated by the students with no faculty or staff inclusion.
The showcase itself is just as open-minded as the process of putting it together. When asked what the theme of the show will be, Bethany Peterson, a junior dance major, said, "Themes pigeonhole the show and put you in a box. Without one, it is more open to an artistic concept that allows for more growth. It lets the piece evolve into something completely different from your starting point. Each piece will have its own concept or momentum." This allows sufficient room for the dancers, or artists, to truly express themselves through their piece in the showcase.
Before the auditions, the dancers fill out their class schedule so those in charge can work the rehearsal schedule around everyone's availability. Peterson said that this can be one of the biggest struggles, and that one's schedule is often a huge deciding factor in whether they make the cut or not.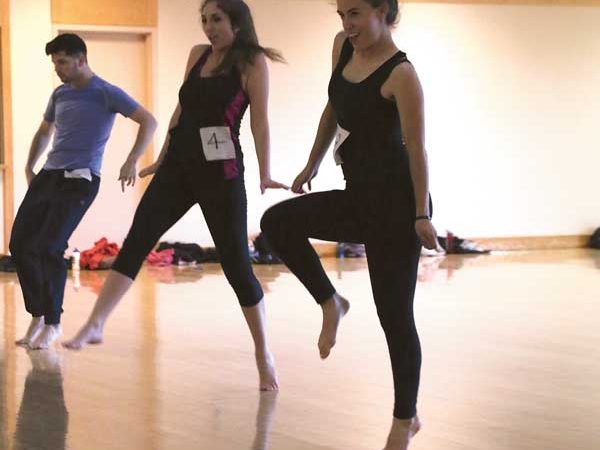 The dancers were split up in five groups of seven to showcase their talent and work for their spot in the show. The first number was contemporary and slow, which later transitioned into the high-energy, fast paced second number. The improv section followed this. The dancers were given two adjectives and had to improvise a small number by themselves across the floor, allowing the judges to see their artistic capability. In the second half of this section, a few of the dancers posed in the middle of the floor as a kind of "obstacle"  or "mold" for the dancers auditioning to use at their will in any creative way they could think of.
Out of the 27 people who auditioned, between two and eight dancers will be needed (depending on the choreographer and how many different choreographies there are).
The Choreography Showcase is set to hit the stage on December 9, 2016 in the Redfern Arts Center.
Rachel Vitello can be contacted at rvitello@kscequinox.com