Who doesn't like popcorn? Who doesn't like a chocolatey, guilt-free dessert?
Shoot for dark chocolate above a 70% cocoa content because cocoa is filled with antioxidants & minerals. Unsweetened coconut contains healthier fats & more nutrients than butter and pairs with the chocolate well.
Sea salt contains many trace minerals unlike regular salt and also pairs well with the chocolate and popcorn.
This is a quick and easy recipe that can easily be made on or off campus.
The ingredients will last a long time, so you can buy them in bulk and keep them around for when you're craving a chocolatey, mindful treat!
Ingredients:
(Makes about 2.5 cups of popcorn)
2 tablespoons of popcorn kernels or 1 bag of popcorn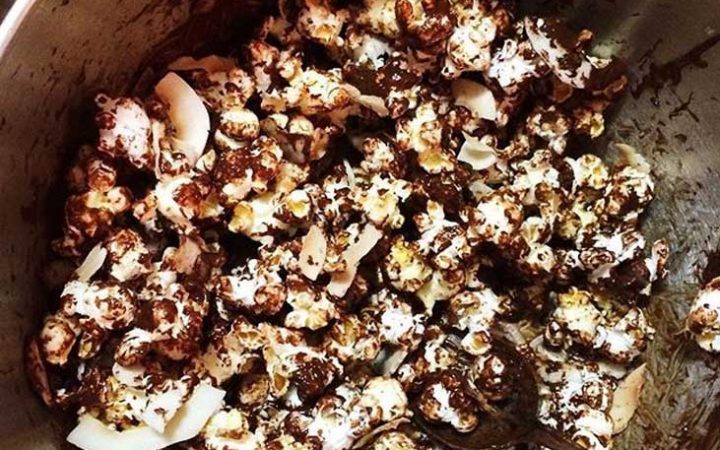 ¼ cup dark chocolate chips (or 1 crushed bar)
¼ cup shredded, unsweetened coconut
¼-½ teaspoon sea salt (if popcorn is unsalted)
1 tablespoon oil (preferably coconut oil)
Step 1: Make your popcorn!
To pop your own popcorn, start by adding your tablespoon of oil to the bottom of a pot; you're going to want a pot with a lid.
Add a couple kernels to the oil and allow to sit on medium heat until the kernels pop. Then you can add the rest of your popcorn!
If you're using bagged popcorn, follow the directions on the bag.
Step 2: Add the ingredients
Now that you have your popcorn, pour it into a bowl and, while it's hot, add in the other ingredients.
Stir it around so the chocolate melts and the ingredients get distributed. You can put as little or much as you'd like.
A handful of the chocolate and coconut is usually good for a serving of popcorn.
Wait for it to cool and enjoy!
Ali Fitzgerald can be contacted at afitzgerald@kscequinox.com