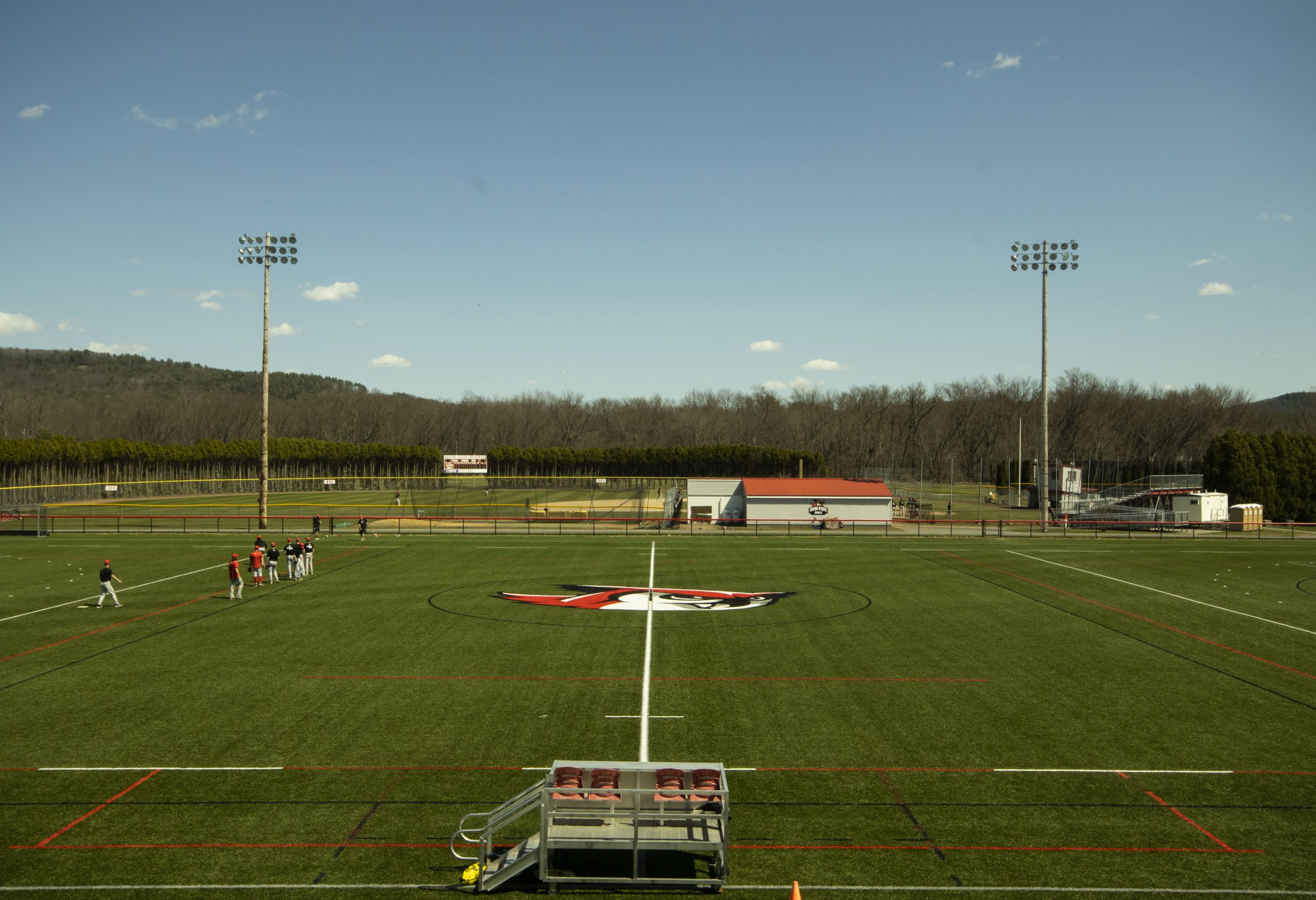 Keene State's fall athletic season is officially underway.
This season welcomes two new Division III teams to the lineup and new coaching staff for men's soccer and the cross country programs.
Just a few weeks into the season, the college's fall teams are focused on the Little East Conference (LEC) championships and the possibility of postseason NCAA competition.
Women's Volleyball
Quoting one of his players, Head Coach Robert Weiner said "the vibe is strong" going into the women's volleyball fall 2022 season.
"We have a lot of fun," Weiner said. "It's our little corner of the world, the volleyball corner, and it's kind of a cool place to be."
The team is coming off an appearance in last year's LEC semifinals, losing to the University of Massachusetts (UMass) Boston in a close 2-3 finish.
Senior captain Sydney Johnson said the team is feeling empowered this season, with their eyes set on finishing what they started last season and taking the LEC championship title and moving into the NCAA postseason.
"I think we're all in the mindset that we're going to the end no matter what, we don't even have any other options in our mind," Johnson said.
Although they graduated five starting players last year, Johnson said the team hasn't missed a beat. And they proved it in their season opener, winning 3-0 against Anna Maria College in the Spaulding Gymnasium.
"I think we can only go up from here," Johnson said.
Weiner said the team is focusing on aspects of the game within their control and not getting caught up in any errors made during a given game.
"Volleyball is a weird sport in that every point is caused by a mistake," he said. "[We're] trying to tell people, of course, you're gonna make mistakes. And so are they. And we just have to make fewer and own them and walk away from them."
Women's volleyball is playing at home this weekend, with two games on Saturday against Johnson & Wales University and Wesleyan University at 10:30 a.m. and 3:30 p.m. respectively.
Golf
For the first time in 25 years, a new varsity sport is joining Keene State's fall lineup.
Men's and women's golf was added this year, bringing the college's Division III offerings up to 20, according to the athletic department's website.
Men's and women's golf are kicking off their inaugural seasons this month. The men's team, made up of eight players, competed at the New England Golf Invitational on Sunday, Sept. 11 at the Country Club of New Hampshire in North Sutton. The six-member women's team will begin their season on September 24 against Westfield State University.
"For our first season, I think our hopes are just to have a lot of fun and get better at golf," said Head Coach Jeff Timmer. "I'm a competitive person, I like to win, but understanding in your inaugural season, we're gonna do the best we can and we're gonna get better."
The teams grew from the college's existing lineup of club sports. The golf club debuted on campus in spring 2020, Timmer said.
Because of high interest, the athletic department proposed to make men's and women's golf Division III sports, which was approved by the college last fall.
Men's and women's golf holds weekly practices and matches at the Keene Country Club. However, the teams will be competing in different conferences. The LEC currently does not sponsor competition for women's golf because not enough member schools have added women's golf, Timmer said.
While the men will be competing as part of the LEC, the women are joining 11 other region schools in the Northeast Women's Golf Conference.
For golf's inaugural season as a Division III sport, Timmer is hoping to give his players the same positive experience that he had playing college golf.
"It was one of my better experiences in college," Timmer said. "I'm trying to give our athletes that same type of experience, I want it to be something that they look forward to."
Cross Country
Head Coach Dan Roark noted a positive energy in the early weeks of the men's and women's cross country season.
"I think people are very excited," Roark said. "It's definitely looking strong, we have our eyes on towards the end of the season."
This is Roark's first cross country season as head coach, after replacing Paige Mills following her departure from the position last December. He now leads the college's cross country and track and field programs.
"I'm excited to put my stamp on the program," Roark said.
The team saw success in their first meet of the season on September 3. Women's cross country placed third overall, with the men placing fourth, Roark said. Junior Maggie St. John, in her collegiate debut, placed third in the two-mile course. Senior Jake Pearl made a second place finish in the men's 5K. 
"It was a good first showing for where we are," Roark said.
Each team has their focus set on the LEC championships at the end of their season, both for individuals and the teams as a whole, he said. To get there, the runners are working hard to grow and progress as the season moves forward.
"There's some stiff competition in the LEC both on the men's and women's side, but we want to put ourselves in the best possible position to be competitive at the end of the season," Roark said.
Women's Soccer
Head coach Sarah Testo said this year's women's soccer team has a positive energy going into their fall competition.
"They support each other on and off the field," she said "It seems [like a] really, really good, really tight knit, family-orientated group of girls that support one another."
KSC's women's soccer team rounded out last season with a 6th place finish in the LEC playoffs.
This year, they are hoping to return to the playoffs with even more success, Testo said. To achieve these goals, the team is working on perfecting their scoring abilities and heightening defense.
"We're just building upon all the ground that we made towards the end of the season [last year] and we're just building upon that moving into this season," Testo said.
The team welcomed 13 first-year students this year, but Testo said they are showing promise early into their first season at Keene State. First-year goalkeeper Riley Andriski was recently named the LEC's Rookie of the Week and Goalkeeper of the Week, according to the department's website.
"The future's bright for them," she said. "I think just getting them into the game and getting game experience is going to be huge for them adapting to playing at the college level."
On a team that skews younger, with first-year students and sophomores making up half the team, Testo said she is stressing the importance of a positive attitude.
"Myself and my coaching staff, we're really excited about this group," she said. "We think that they gel well. They want to get better every day. And I think that if we continue to show up with that attitude, we're going to just get better as the season progresses."
The Owls won their first game of the season against Regis College on September 7, with sophomore defender Katherine Burzlaff scoring the game's only goal and the first of her collegiate career. They maintained the momentum, winning at home against Salve Regina on September 10.
Men's Soccer
Men's soccer, under new leadership, is entering its 75th season.
Matt Schmidt, the team's new head coach, is looking to lead the team to success through creating a hardworking and supportive environment.
"The results aren't going to happen by accident," Schmidt said.
Schmidt succeeds Rick Scott, who has a nearly 40-year career with the Owls, including the past eight seasons as head coach. He announced his retirement in July due to health issues.
The team kicked off their 2022 season with the Cardinal Classic against SUNY Plattsburgh and Clarkson University. The Owls lost against both teams 2-0 and 1-0, respectively.
Despite the games ending in losses, Schmidt said their match against Clarkson showed an improvement defensively — a skill the team has been focusing on in practice. The game's only goal was scored during a penalty kick, with the Owls blocking other attempts on goal by the Golden Knights.
However, Schmidt is hopeful for the season to come, citing the team's leadership under captains Declan Coughlin, Wyatt Linville, and Benny Tamzarian. He also noted the initiative of senior forward Mbambi Mbungu and sophomore defenseman Damir Hamzic.
"I think their response to those games was strong," he said. "And I think if we can keep having that kind of energy and response, the results are going to come."
Men's Soccer is facing off against New England College in their first home game of the season on September 18 at the Dr. Ron Butcher Field.
Caitlin Howard can be contacted at
choward@kscequinox.com