How will the basketball teams continue thriving through the pandemic?
The men's and women's basketball teams have made their return to the court. With Keene State heading into the second year of the surging COVID-19 pandemic, what will the rest of the season look like for them?
Women's basketball head coach Keith Boucher said that while he hopes the team can continue to progress, he just wants them to be able to remain on their feet. "Well I think, like everyone else, we're surviving… It is what it is… The discouraging thing is that we had everybody, and then a couple [players] got [COVID-19] over break, then we got back, then two or three got it, they were in isolation, then a couple more got it, they went into isolation, then three or four more got it, and they went into isolation, so we were losing people and getting them back at random times, so it's difficult to have any continuity," he said.
Men's basketball head coach Ryan Cain said that he hopes his team continues to improve as the weeks go by. "The ultimate goal that we all have for our basketball team is to get better each and every day, focus on that and do everything possible to improve and get better so that we are playing our best basketball at the end of the season… In addition, the bigger picture goal is to always get into the NCAA tournament while playing your best basketball so you have a chance to make a run and win a national championship," Cain said.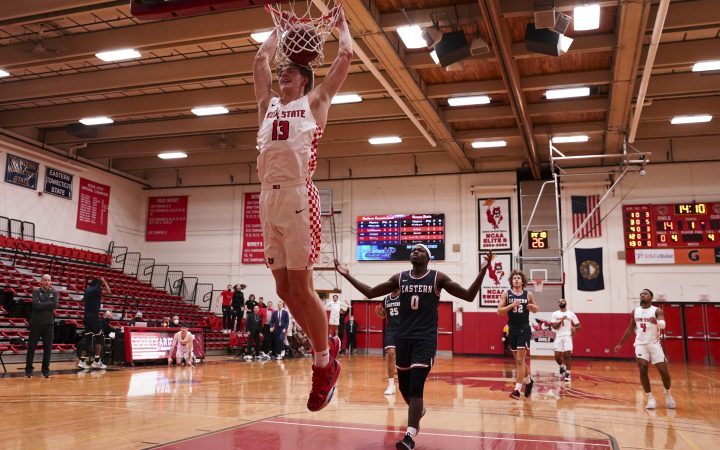 Boucher discussed that with the winter break causing a pause, and with the current state of the pandemic, playing on a team is continuing to present with more challenges. "Basketball, at this level, is so different… you're talking about offense, defense, you're talking about special teams, what you do in special situations, you're talking about your conditioning as well and your skills. And most of [the players] can't get in a gym during break because people won't allow them in gyms. You try to do your cardiovascular conditioning and, if you're fortunate enough, you've got a stationary bike or some kind of a bike, or you can get out and run if it's not too cold or it's not snowing, then you can take care of that part of it; but, as far as team continuity, and running offense and defense, and getting to play with each other, you just aren't doing that," he said.
Boucher mentioned, "I just feel bad for them because it's been two years, and people haven't seen them play in person. We had a few games in the first semester but now we're back to no fans… You want to see your son or daughter compete. You don't want to watch it on video. You want to be there, through the highs and the lows. They need you more when they lose than they do when they win… I just feel bad for them right now because they're trying to make the best of a bad situation."
Cain said that he is not concerned about the current state of the pandemic affecting competition play. "Across the country, there will be post-season conference tournaments and an NCAA Division III Men's Basketball Tournament barring any unforeseen circumstances," he said. "There is always the potential for future issues, but I believe we will continue our season and manage those issues to the best of our ability to keep our student athletes safe, while doing our best to continue to provide them with opportunities to compete," Cain continued. 
Boucher said he hopes that his players will continue to be safe and play to the best of their abilities. "There's one thing you can't disguise, and that's effort," he said.
Piper Pavelich can be contacted 
at ppavelich@kscequinox.com