Once a month, OMSSS hosts Out & About to get to know one another
Out and About provides a safe space for the LGBTQ+ community to build relationships with each other.
The Office of Multicultural Student Support and Success (OMSSS) sponsors monthly gatherings of LGBTQ students, faculty and staff, to connect over shared identity and experience. Last Friday, about eight students came together to share their stories during the second Out and About meeting of the semester.
The Associate Vice President for Institutional Equity and Diversity, Dottie Morris, said these events are important to have on campus.
"Sometimes with a social identity that we hold, it's very important to come together with other people who hold that social identity, in order to allow for you to be able to talk about certain issues or certain concerns you might have, where you feel like you need to have a space where other people could right away understand, without having to explain what's going on for you," Morris said.
Hunter Kirschner, the Coordinator of LGBTQ Student Support, said these events also provide a necessary break for LGBTQ individuals from the ignorance of others.
"It's a space that is explicitly for LGBTQ people, a space that I think individuals can expect that you don't have to be on guard to try to navigate or negotiate ignorance, or bias, or any of those things that I think a lot of LGBTQ folks just walk through their days being very vigilant for. And that's, of course, really exhausting, and so it's nice to have even just an hour once a month to have a break from that, and to be able to connect with folks and have fun," Kirschner said.
Junior Lilly Hetzel attended Out and About on Friday, and had a positive experience. "I got to know a lot more people that identify as LGBT or any other pronouns, and I felt like I belonged, and it felt like a comfortable place to be," Hetzel said.
Senior Dove Bazewicz also enjoyed the event, and they hope it will last longer than one hour in the future. "I like how it went. I think if we had a longer time slot… we'd be able to talk more and get more done… and not feel as rushed," Bazewicz said.
The next Out and About gathering will be on November 5. When asked if they would attend future Out and About gatherings, Hetzel and Bazewicz said, "100% yes," and "1,000% yes," respectively.
Attendance is one aspect of the event that Kirschner is hoping to expand this year.
"A hope is to engage more staff and faculty… My vision of this is to have this really intergenerational space, and how it often works out is that it's mostly a group of students and me, and maybe one other staff member, maybe two other colleagues of mine," Kirschner said. "I do really believe in this idea of what Laverne Cox refers to as possibility modeling. So this idea that they're thinking about the kind of violence, discrimination, lack of access, hard times that LGBTQ youth experience. It can be really challenging to think about the future, to think about yourself as an adult, to think that it can be possible that there will be an end to that judgment, ridicule, or harassment or violence. They can be accepted, and there can be people who are able to embrace these parts of identity and that can thrive, that can be happy in the world as out and proud queer and trans people. And so, to me, it's really important to be very visible for LGBTQ students, to be this like real, live queer and trans adult with a job, and a home, and a partner."
Kirschner also said it is important to have general LGBTQ visibility on campus, so even those who choose not to attend the events know there are spaces that exist where there is a community of people who are caring and accepting. He also said another aspect of Out and About is the space itself and how they navigate it.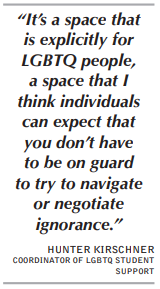 "I often go around to different buildings or different spaces on campus to hold these gatherings because we belong everywhere on this campus, and so there's not a place where we have to be that is just for us where we can be okay and feel safe. That should be everywhere and anywhere," Kirschner said.
October is LGBTQ History Month, and Kirschner is planning a series of programs between October 11 and October 22. These events will include Chalk Talk on Coming Out Day, a storytelling workshop by a multiracial queer collective out of New Orleans, and an interdisciplinary round table with faculty talking about their disciplines' approaches to writing, researching, and teaching about LGBTQ people both historically and presently. There will also be crafternoons, pronoun tag and pronoun button making on International Pronouns Day, and a spirit day event partnered with KSC Pride.
More information about these events will be posted on OwlNet, on flyers around campus, and on the Office of Multicultural Student Support and Success social media.