KSC Pre-Law Society, which aims to guide Owls to the right path regarding decisions about pursuing a law career, has been officially recognized as a student organization. It is all set to serve the Keene Community by bringing law enthusiast Owls under one umbrella.
Having the constitution passed by the student government last semester, the organization is now finally recognized as all the board members were elected last week.
Paula Durant, the president of KSC Pre-Law Society, joyfully expressed the feeling of finally having a law organization in the college, which has happened for the first time. "We want to join students that are interested in legal studies together and are trying to cater what is best for the students in the club," Durant said.
A platform where one can learn from people's real-life experiences and guidance is an amazing asset that has been added to Keene State community. The club is excited to provide students with practical skills by exposing them to valuable career-related ideas, and various law firms, through presentations, guest speakers, workshops, trips to law schools and legal offices and reading and sharing literature. It has connections with different law firms which will make the experience for students more meaningful.
The advisor of KSC Pre-Law Society, Mike Welsh, said, "The club is going to sponsor a panel of seven law school representatives from different cities like Boston, Vermont and many more in late October, where they will share about how best their schools are and different law categories they offer."
It also plans to invite Keene State law graduates and various other notable speakers who have been successfully pursuing their law careers. From inviting speakers to exposing students to various internship programs, it will allow students to connect with networks.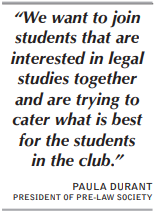 Similarly, uncovering helpful resources for LSAT preparation (Law School Admission Test that anybody applying to law school must take) is one of Pre-Law's purposes. "We will bring up an LSAT coach in to talk about how to take the test, how not to be scared and, how to be successful," said Welsh.
Pre-Law Society is hosting its next meeting on Friday, October 22, in S203 of Rhodes Hall. Durant said, "Initiating the club, planning the events and everything else have been a rewarding experience so far." The club welcomes all the curious minds as Durant added, "If you are interested in going to law school and you are a legal studies major it's awesome for you but, also if you're not 100% sure about it and just want to stop, you are welcome."