Kiana Wright
Opinions Editor
Technology infused with movements and emotion was just one part of many pieces during An Evening of Dance. This dance performance marks the 44th year of An Evening of Dance. First-years to seniors were gliding, bouncing, walking and running across the floor during the four showings last week. The movement was everything, but not everything was movement during their showings on April 17 through the 20 in the Redfern Arts Center.
The lights and music helped created an atmosphere for each routine. Junior Jocelynn Grabowski, elementary education major and studio art major, said, "A lot of it was, in a good way, anxiety-bringing, but I think it brought a new kind of mood to it. And a feeling into it too." These movements and music that were bound together, although set with lines and nicely played notes, were far from ballet or classical jazz. It was modern, techno, and ambiguously open. One performance called "Improvisation with Gravity" was even partly made up of on-the-spot moves.
Most of the dances did not have any language or speaking in them. Only select few had someone talking or had a voice in the song. But for those that did, Jacob Chiza, a senior studying safety and a KSC athlete, said that it added value. "It's important—I want people to hear us. Other than us just dancing I want them to hear our voices, cause they don't really know what our voices sound like," Chiza said. In the beginning dances, students and other dancers were yelling numbers and actions they were doing. Then in the very last dance, Chiza talked in a narrative style to the audience.
There were nine performances split between by an intermission. A few were choreographed by students, some of which represented Keene State College at the New England conference of American College Dance Association hosted by Plymouth State University earlier this month.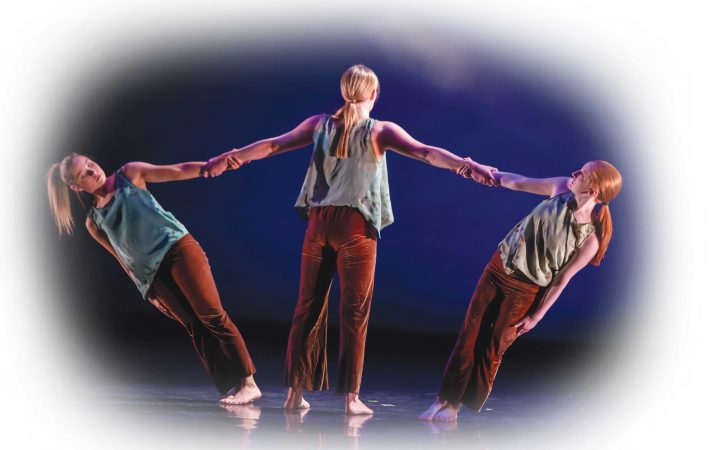 One of the student choreographers, senior Zachary Robinson, who is majoring in elementary education and dance education, talked about what it's like having students perform his routines. "It's honestly the best feeling ever. I am my happiest when I'm making choreography and making movement. Watching my piece is so rewarding because I worked so hard," Robinson said.
This was KSC senior who's studying middle school math education major with a dance minor Faith Pudlo's fourth and final year being in The Evening of Dance and her second year in a faculty piece where she got to work directly with her professor. Pudlo said, "This is the most professional out of all of the performances, I feel like. As dancers and a cast and a crew we're set to this really high standard of a lineage of what came before us. And it's so special to be on the stage and to just know you're dancing with everybody that has been here, is here now, and that is going to be dancing with you."
These students and everyone else that took part in Evening of Dance chose to be there; they didn't have to be majoring in any specialization of dance. The only requirement was to be enrolled in one technique class and to audition said Pudlo.
Chiza said when he dances, he feels at peace, "I feel calm, I feel excited cause I'm like, you know, I'm in my body. I'm dancing for me, I feel happy."
An Evening of Dance has reached its 44th year of annual performances, making it KSC's oldest traditional dance performance. The participants in the event urge anyone interested to attend next years showing. Junior Olivia Ladelfa, a Psychology major and an art minor, said that the audience feel involved, especially when you sit close to the stage. She went on to talk about the performance as a whole, "It was really really good, I liked how involved you feel in it."
Grabowski said, "I thought it was very good. They were all very creative and you could tell a lot of the work that went into it was the dancers and the choreographers."
Chiza said, "I just want them to feel our energy, and our vibe. Like, just come enjoy the show and have fun." He also added, "I recommend a lot of people to come and watch the show."
Kiana Wright can be contacted at kwright@kscequinox.com