Alyssa Wisniewski
Equinox Staff
On the brink of Wednesday night's sunset, a handful of students and faculty gathered on the student center lawn to honor the citizens who committed suicide this past week. The Feminist Collective passed around candles and gave each student a biography of Sydney Aiello, a survivor of the Marjory Stoneman Douglas High School shooting in 2018, and Jeremy Richman who's daughter was killed in the Sandy Hook Elementary School shooting in 2013, both of whom committed suicide.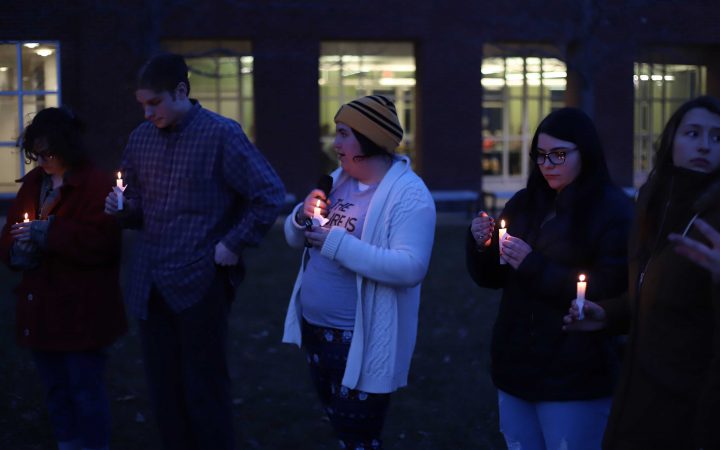 Grace Frost, the Public Relations Manager of the Feminist Collective, said the goal was not to set a political statement but to show respect for those who took their own lives.
Although the events happened fast, the Feminist Collective still wanted to show their support and respect.
"We got the news Monday and we wanted to honor them. They were amazing people," said Frost.
Frost reported that she was a resident of Newtown, Connecticut. The same town where Adam Lanza opened fire at Sandy Hook Elementary School in 2013.
"It means a lot to me and my town to put this event on, it really hits home for me," said Frost.
Frost became teary-eyed when she shared her story about Richman who Frost knew well.
Frost believes that sometimes suicide can be overlooked in news today.
"It's really easy when these things happen for it to get drowned out by other news and we don't want that to happen," said Frost.
Aaron Keaton, the president of the Feminist Collective, also spoke a few words about the victims.
Keaton believes that students should be aware of it and should show respect.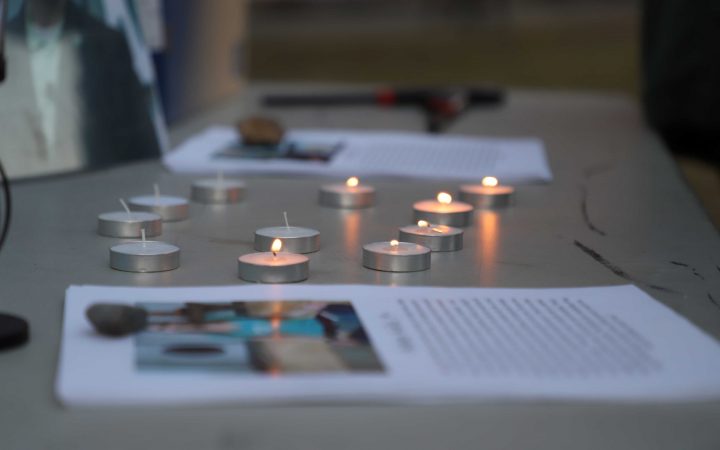 "We're all students at a school. Gun violence can affect us all, a lot of us feel safe. I think it's important to raise awareness" said Keaton.
"We don't have set values or initiative and were really open to educating other people with this issue a lot of people don't know a lot about it," said Keaton.
After club members presented the information about the victims, students gathered to take a moment of silence while each candle was lit.
Atticus Caruso attended the vigil and thought it was purposeful.
"I think it very well, it was tasteful and meaningful and I'm glad some others came despite it being cold out," Caruso said.
Caruso also admired the support of everyone who attended the event.
"I think it's really good that we have all these people here for support and remembering those who passed," Caruso said.
Caruso also believes there is a lot of shaming others who have committed suicide.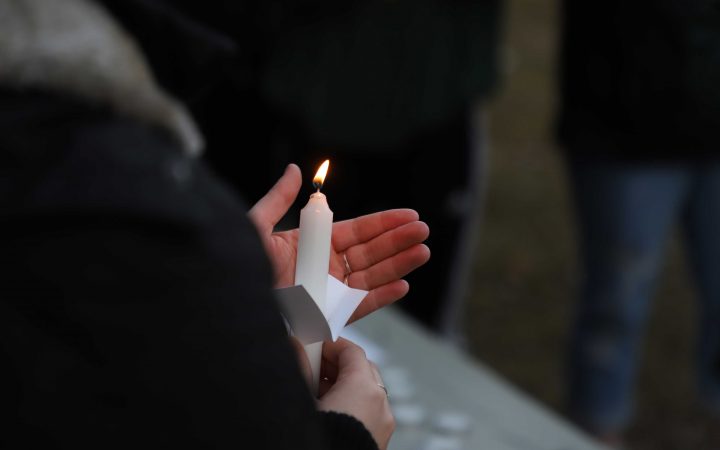 "It's unfortunate that with deaths by suicide that there's often a lot of shaming and blaming of the person who passed away. I don't necessarily think that's productive," said Caruso.
Nicole Wood appreciated the vigil for a personal reason, "My father struggled from mental illness and borderline personality disorder and he lost his life," Wood said.
Wood said she liked having people come together to honor and support others.
Wood said, "I loved the solitary of it, coming together as a sense of unity and all of the emotion."
The vigil ended with students embracing with a lot of emotion.
Alyssa Wisniewski can be contacted at
awisniewski@kscequinox.com