Angelique Inchierca
Equinox Staff
Between clothing lines and bulletin boards, Keene State College students were able to share their stories about sexual violence and survivor support through the What Were You Wearing (WWYW) exhibit that opened Feb. 25 through March 1.
The event was a collaborative effort between the Sexual Assault and Violence Education committee (SAVE), Monadnock Center of Violence Prevention and other KSC students and staff who wanted to get involved in the process.
Students who wanted to participate could bring the actual items of clothing they were wearing or provide the committee with details to have the committee go and buy a close match.
KSC Assistant Director of Emotional Health Programming & Outreach and Coordinator of Sexual Violence Prevention Forest Seymour said this beginning of the process was one of his most impactful moments for him. "It was powerful. We all gathered last Saturday morning, figuring out how to display each pair of clothing and that was really powerful for me too… I think the process of putting this show together was a pretty heart felt experience," he said.
Once the items and stories were picked, the gallery's setup was co-designed by the committee and Thorne Sagendorph Art Gallery Director Brian Wallace. "[Wallace told us] how to use the space effectively," Seymour said, "He suggested we have some other events connected to this, so we had an opening Monday evening… and then [Thursday we had] a panel discussion with several people who will talk about stigma around sexual violence."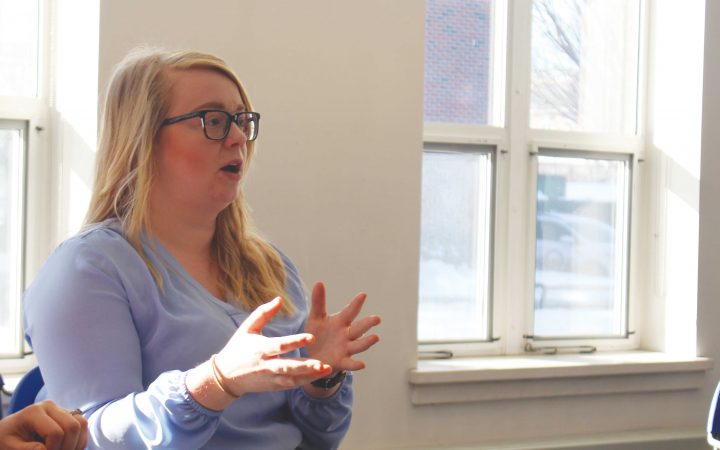 Viewers could walk around the gallery to view the clothing on display and written pieces describing the personal accounts that were  in many forms of writing, including poetry.
KSC Senior, communications major and Mentors Against Violence Prevention Eboard member Brianna Hankel said, "I think they're so powerful. [Sexual violence] is a really traumatizing moment for people and so having that be able to be shared and having the words being able to be written down is so powerful for me to read." She added that the written pieces aided the project in two ways: sharing the victims' stories and educating the public that what a victim is wearing does not matter.
KSC Senior, psychology major and SAVE committee member Hannah Lussier said she already knew that sexual assaults did not happen based on one's clothing, but she liked the exhibit for its diversity. "From people who were in formalwear to people who were in pajamas… we really need to stray away from all the stigma that ties into victim blaming," she said.
The gallery also featured KSC's annual Clothesline Project where supporters and victims would create artistic tees and hang on cloth lines strung up around the gallery. Lussier said, "This [year's] clothesline project was different because they just decorated shirts with anything they wanted to say, or image they wanted to show." She said how this project is more about how one is feeling than an account of what happened.
Hankel said, "The clothesline project is a way for people to express how they're feeling, so it can either be to express ending sexual violence and domestic violence." She said the Clothesline Project and WWYW are both national events, and she said she liked having them both come together for one event.
Seymour said it took about a year to get the event together. "The idea comes from different schools that have put on similar shows," he said. He added that they even received a guide on how to prepare the show to be the safest for contributors and pleasurable for those who came into the gallery. He said to help in keeping the privacy, there was a no photo policy and little social media coverage.
Seymour said this event had multiple factors in breaking stigma around sexual violence, "If you walk through the display, you can certainly see that [the clothing] really had nothing to do with [the attack] and the stories."
He added, "I hope it provides a healing experience for both the people who participated in the display and any other survivors and people who have been in other sorts of trauma, so they read the stories and not feel so alone in their experience."
Angelique Incheirca can be contacted at
ainchierca@kscequinox.com