Erin McNemar
Managing Executive Editor
Keene State College demonstrated school spirit on Wednesday, Jan. 30, as both students and alumni gathered in the Spaulding Gym to watch men and women's basketball compete against Plymouth State.
The event, Red & White Spirit Night, was sponsored by the Fenton Family Dealership and came together with the help of the Athletic Department and the Alumni Center. Assistant Athletic Director Abe Osheyack explained the purpose of Wednesday night's event. "It's a celebration of a lot of different things going on. We're honoring our faculty and staff and we're welcoming back a lot of alums for the reception, and then to watch the basketball games," Osheyack said. "It's the first game back post-break and it's Plymouth State, which is our long standing rival. It's a chance to have all these different things come together on one evening."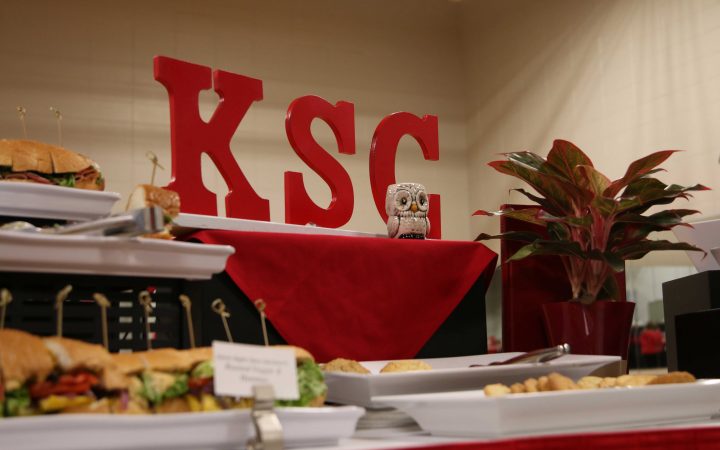 To begin the evening, alumni were asked to come to the reception prior to the start of the women's game.
Alumni Reunion Coordinator Andrea Vickers-Sivret said, "We've been hosting alumni events before some of the basketball games."
Vickers-Sivret explained the Alumni Reunion team hosted a reception at a previous game against Plymouth State at Plymouth State. After receiving a turn out of about 30 people at Plymouth State, Vickers-Sivret worked to coordinate a reunion game at Keene to hopefully receive an even larger turnout. "For the reception, we have been [trying] to reach out to alumni more, get them engaged in events they want to attend, get back the spirit of going to events and being excited about games," Vickers-Sivret said. "Sometimes, unless you're invited, you won't go. Knowing that other alumni will be there and it's a time to get together is a good opportunity."
Osheyack, who is also a Keene State alumni, said, "It's always important to connect with your alumni to start partnerships with your sponsors, and all of those types of things can only grow and make Keene State a better place. It's just something that we should be doing and continuing to do."
Attending the game was KSC alumni Chris Nichols. Nichols, who had graduated in 2014, majored in architecture and decided to come watch the game with his son. "My son plays basketball, so I thought it would be good for him to come see college players," Nichols said.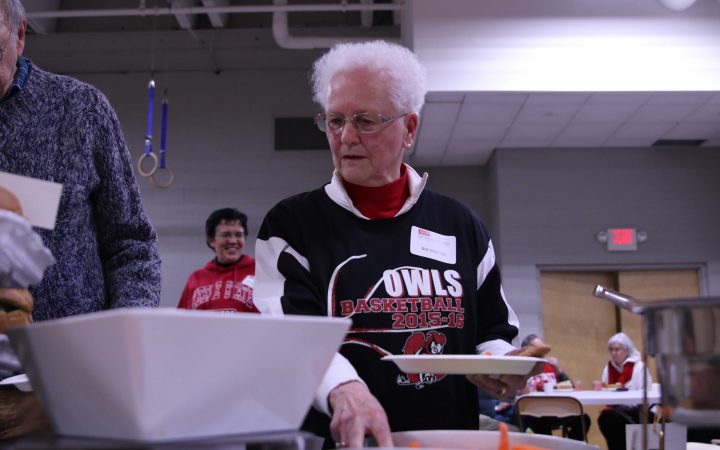 While the games brought alumni eager to watch the players on the court, current KSC students also filled the stands. After being invited by a friend, junior Avery Ruggles attended her first game on Wednesday night. "I like that it's against Plymouth. It's cool because I haven't seen any sports games against them, and they're like our rivals," Ruggles said.
Although graduation for Ruggles is still some time away, she said she liked the idea of the alumni game. "I would definitely come back for an alumni event," Ruggles said.
The games also acted as a soft launch for this year's Giving Challenge. The Giving Challenge, which partners with the Fenton Family Dealership, takes place during the month of February and works to raise money for the Athletic Department. The challenge calls upon alumni, families and community members to make donations to specific athletic team accounts. This year is the fourth year of the Giving Challenge.
Erin McNemar can be contacted at
emcnemar@kscequinox.com