Mackenzie Donovan
Equinox staff
I spent years cycling through different medications and therapies in an attempt to get control of my mental health issues. However, nothing worked. Not only could I could barely leave the house or participate in normal life, but it was even worse because it was becoming impossible to live in my own house, too. I was debilitated by my Tourette's Syndrome, Obsessive Compulsive Disorder, autism, panic disorder, clinical depression, and generalized anxiety disorder.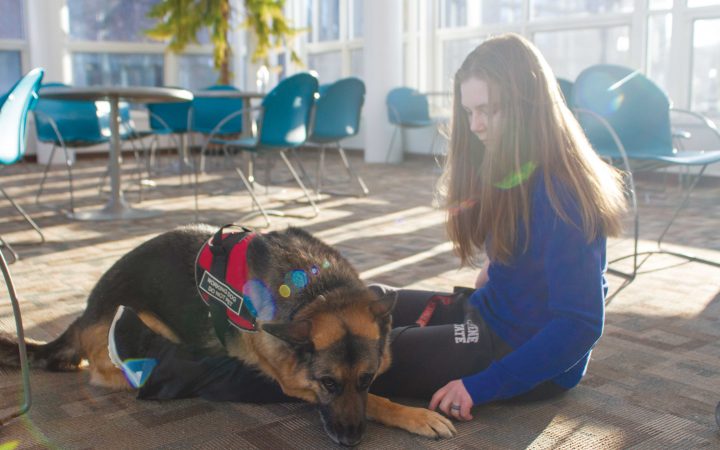 At 13, I started working with a kennel called Select Shepherds. Sue-Ann Connary Kazenas has been breeding working German Shepherds for thirty years. She produces police dogs, protection dogs, and service dogs. She works extremely hard to produce dogs with the best physical health, stable temperaments, and drive for working ability. She paired me with a puppy she bred: Leona von der Hainstadt, also known as  "Rue."
I have been working with Rue everyday since Jan. 15, 2012. She is now almost 7 and a half. Since day one, Rue was raised and trained to do one thing: be my psychiatric service dog.
In order for Rue to meet the standards set by the federal law that governs service dogs stated under the Americans with Disabilities Act (ADA) Rue had to be trained to meet their standard of obedience for the safety and legitimacy for service dogs in public. She also had to be trained to perform tasks that mitigate my disability.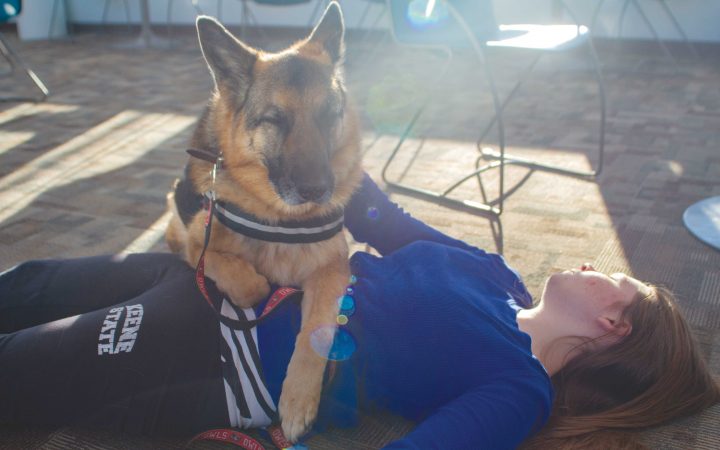 The ADA states that a service dog is: "…any dog that is individually trained to do work or perform tasks for the benefit of an individual with a disability, including a physical, sensory, psychiatric, intellectual, or other mental disability."
The ADA also states that dogs that are out of control can in fact be kicked out of a business by the owner.
It took three years for Rue to be considered fully trained. She performs six different tasks to mitigate my psychiatric disability. She is trained to perform these tasks regardless of whether or not she is wearing her vest. She is also rigorously trained to and worked to maintain her public access obedience so that she does not disrupt the public when we are in places where pets are not allowed.
Rue does not come in public with me because she "makes me feel better." You cannot bring your dog with you in public because their existence makes you feel good. I worked extremely hard to train Rue to meet federal law standards of what a service dog is. We continue to work with her breeder, go to training classes, and train on campus to maintain this high standard.
Service dogs are hard work. They are not the right fit for every disabled person. If you think a service dog might help your disability, please find a reputable breeder like Select Shepherds. Not a rescue or a backyard breeder. People like Sue-Ann Connary Kazenas breed working dogs that set disabled people like myself up for the best chance of success.
Rue is almost eight now, and she will be fully retired from service work within the next year or so. She is an incredible working dog and will spend her whole life with me.
Mackenzie Donovan can be contacted
at mdonovan@kscequinox.com