Vincent Moore
News Editor
Ducks were floating idly in the shallow lakes that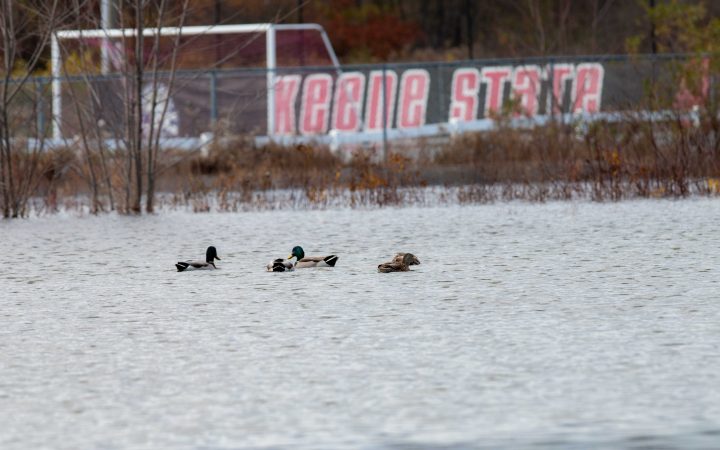 covered the soccer field, adjacent to the Owl Stadium Complex, the morning after both the complex and Winchester lots flooded.
On Nov. 7 at 9:24 p.m. Campus Safety sent an email warning students that the Winchester lot had flooded, urging them to move their vehicles to higher ground and warning them to not park in faculty/staff, visitor, or any other reserved parking lots. A little over half an hour later, Campus Safety sent a second email with an update, saying that the unaffected parts of the Winchester lot was entirely occupied, and that students with a permit for the lot were allowed to use the Madison and Holloway lots until the water recedes.
Assistant Director of Physical Plant/Grounds Bud Winsor said that he suspects the flooding was caused by the operators of the Surry Dam compensating for all the rain the area received in the past month.
"I think in anticipation of another rain event this weekend, they're letting water out of the dam and within the last two weeks. There had been numerous rain storms that had been an inch and a half or more, so it hasn't been one big rain storm, it's been cumulative … I haven't been in contact with the Surry Dam operator but I know they're trying to dump water as quickly as they can," Winsor said.
The stadium and Winchester lot flooding first were by design, as Winsor said that they were both built with flood retention in mind to protect nearby buildings.
"It's expected, but it's always disappointing when [Owl Stadium] does flood. Luckily all the fall events have finished as of yesterday, so it's not impacting any games right now," Winsor said.
According to Winsor, the only damage the flood has caused is the Physical Plant's work schedule. "It slowed down our work because we're trying to blow out the irrigation lines but we can't blow them out until this water recedes. It's kind of messed up our work schedule a little bit, but other than that there's no physical damage, no buildings flooded," Winsor said.
Associate Director of Campus Safety Stuart Mitchell said that the last time Campus Safety had to warn students of flooding was in the January of 2018 and that Campus Safety's role during flooding is to monitor the water levels and to protect students. "We monitored the parking lots to check the level of water there and in the river, and when it became necessary to notify students, we did so. Our goal is to protect them from any loss by letting them know beforehand that there is water in these lots," Mitchell said.
Despite both of Campus Safety's emails, urging students parked in the Winchester lot to move to the lot's unaffected higher ground, and then allowing them to park in Holloway and Madison lots, Mitchell said that students might have to park elsewhere. "The size of the Winchester lot just physically with the number of cars it can hold far [supersedes] the capacity of basically any lot on campus. So, if we had to move every vehicle from there onto campus, I doubt we would have capacity in one specific lot to hold those."
Should all three lots become full, Mitchell said that students still have options on where to safely park.
"Students should park in any legal space. Start over with other commuter lots. Start at the Spaulding Gym lot, [it] is always a good place to go. Parking in Faculty and Staff is not recommended, but we do, in situations like this where we have to displace the students from the Winchester lot or any lot here on campus that is dedicated to them, we relax parking regulations and we're not going to go out and write people parking tickets for being in commuter lots when they're not a commuter student," Mitchell said.
Regarding vehicles left in the Winchester lot, Winsor said that from what he had seen the water had so far had only reached up to tires but not high enough to reach the floorboards and cause damage.
For future emergency events, Mitchell said he highly recommends that students monitor their KSC emails, sign up for the alert program listed on Campus Safety's website, and for those with registered vehicles on campus, to make sure that the contact information is theirs and not their parents' back home.
Winsor said he hoped that the water would recede by Thursday afternoon, but it's a decision to be made by the dam operator: "It's really the dam operator who's in charge of this right now. And I know they wouldn't do this unless they were really concerned, they wouldn't let this much water out … I would think that they have brought it up as high as they possibly can, and hopefully they'll shut it down, because they'll have complaints not just from us but from other places as well."
Vincent Moore can be contacted at vmoore@kscequinox.com