Julia Hawkins
Equinox Staff
The Common Ground Club, or the Multicultural Club, put on its third annual celebration of Dia de Los Muertos for everyone at Keene State to enjoy.
On Nov. 1, Keene State College students and faculty enjoyed raffle prizes, games, food and drinks in the Flag Room in the Student Center while celebrating El Dia de Los Muertos.
As the president of the Common Ground Club, Brianna Neely hosted and manufactured all of the activities presented in the Flag Room for students to participate in. Neely and other members of the Common Ground Club all did previous research on the Day of the Dead before hosting this event. Neely said, "It's a lot of fun to put on this event because we look at death one way, and to see it from a whole another cultural view is inspiring."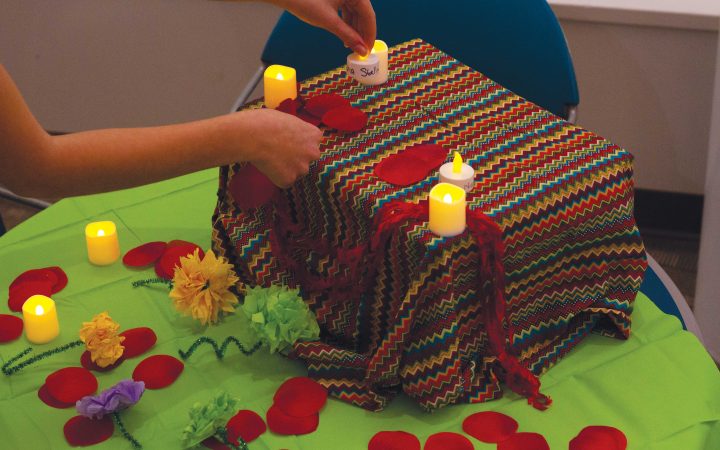 Unlike past years putting on Dia de los Muertos, the Common Ground Club has included a new addition to its event:  The ofrenda. Students and faculty who attended the Dia de Los Muertos celebration placed things such as pictures, flowers and candles on the ofrenda in dedication to a lost loved one. This will continue on for years to come, and will be added to each year.
As a Mexican holiday, the Day of the Dead offers a different perspective on death. Typically when anyone in America thinks of death, it is instantly associated with darkness and tragedy. However, in Mexico, death is looked upon differently. When describing how death is looked at in Mexico, Neely said, "They tell stories about their loved ones and there's colors, music, food, and it's a lot different than it is here in the United States."
At the event, there were many tables set up with different activities. A first year student named Hannah Correia attended the Dia de Los Muertos celebration. Correia said it was a "really cute set up" and that she "really enjoyed all of the food and decorations and Halloween candy." Some of the other activities included making tissue paper flowers, fake tattoos and coloring in skulls. Lots of students took advantage of these activities and spoke highly of them. A third year student named Elena Papadimitriou who attended said she "really enjoyed decorating the skull rice crispy treats and hanging out with friends." The biggest hit at the Dia de Los Muertos celebration was the skull rice crispy decorating activity. Most of the rice crispy skulls were gone and decorated by the end of the night. Another popular activity was the coloring station. There were many coloring pages to choose from, and lots of students took advantage of sitting down and coloring with friends.
The Dia de Los Muertos celebration was and is welcome to any student or faculty at Keene State who is interested in the Day of the Dead. Even though the Dia de Los Muertos is a Mexican holiday, it is still celebrated everywhere throughout the world.
Julia Hawkins can be contacted at
jhawkins@kscequinox.com