The alarm beeps and I hardly budge, the hour far smaller than I'd like it to be and my number of commitments much larger.
I roll out of bed, rubbing my eyes and forcing out a "Good morning" to the other body in the room, cringing internally at the deep and hoarse tone the phrase takes.
"Good morning, love," It responds, hardly more awake than I.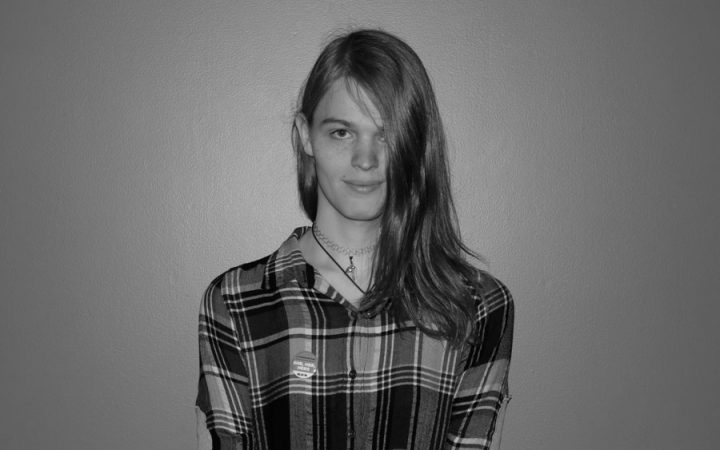 I stretch my body and wait for my partner to finish up in the bathroom, digging through my pants to find something to cover the things I want while showing the things I wish I had. Pants too small around the pelvis or too short in the legs, shirts tight around the chest or far too short, leaving me feeling exposed and wrong.
Underwear that falls to the side or moves far too much, making me feel I will be discovered at any moment.
I finally settle on a dress, just long enough to cover me but short enough to be comfortable, with a pair of tights to keep me warm in the chilly morning, and toss them both onto the bed. Finally, all my jewelry and my favorite socks, Fibonacci Nintendo controllers.
After some decisions and small waking-up sighs, he reenters the room with his hair parted and face squeaky clean.
I walk over and lean my head down, giving him a peck on the nose and then on the lips. "I'll be out in a moment."
I whisper, trying to avoid hearing myself again.
I brush my hair, my teeth, tidy myself and exit the room to the most handsome boy I've ever seen; neither of us fit what you'd expect us to look like, but I couldn't see a manlier man if I scoured the world over.
I finish admiring him and go to help him get his clothes on, fixing his binder to give him killer pecs and his packing to make him seem like the man he dreams of being, while I assure him it looks real, but it's not too much.
After I finish, I move back to my own clothing laid out on my bed, still naked from my morning preparations, and sigh a little, trying to hide the discomfort I feel in my own work to give myself the look of my dreams, tucking that horrid thing between my legs and trying to pull my dress back and show off my ever-budding breasts, while hiding the inevitable bulge between my thighs.
As I fix myself, I hear from across the room, "How do I look?"
I look up to see him fully dressed, his favorite red and blue flannel the first thing that catches my eye.
I can never get over how wonderful he looks in it. "Manly as always."
I respond, finishing up my jewelry and struggling with my watch.
"I don't feel it."
He turns back from me, and I move towards him, forgetting the watch for now.
"Everything you do is manly in my eyes; you could be wearing a dress and I would still see you as the perfectly manly man you are," I take his face in my hands and kiss him, looking into his eyes.
"I love you, my boy, my man."
"Okay, I believe you."
He replies, but I know he doesn't really, but I decide it's better not to push it right now, we have a day to get on with. I take his hand and kiss him again.
We finish preparing our things for the day and we leave together, facing the world as the man and woman we really are, but not the man and woman the world wants us to be.
Mornings are rough for everyone, but for a transgender person, it can be even rougher for any number of reasons.
Anyone seeking a little load off can stop by the Office of Multicultural Student Support and Success on the second floor of the L.P. Young Student Center.
There will always be someone there you can talk to, and if that's not your style, you can attend a KSC Pride meeting and get to have fun and be whoever you want to be with people who understand you.
KSC Pride meets every Monday in the Madison Street Lounge of the student center at 7:00 p.m..
Vivian Valengavich can be contacted at vvalengavich@kscequinox.com