The Living and Learning Commons (LLC) isn't just a new dormitory for first-year students to dwell in; it houses many environmentally sustainable amenities. These amenities include geothermal energy and air sourced heat pumps, which allow for absolutely no fossil fuels in the dormitory. Air sourced heat pumps allow a transfer of heat to travel either outside or inside a building.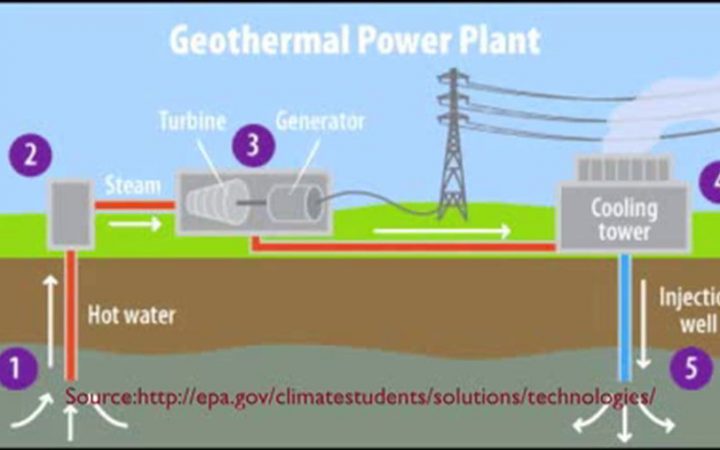 On the other hand, geothermal energy uses heat from the earth to either provide that heat or electricity. It can also take heat away from a building by storing it in the ground, which according to the energy blog on The National Geographic website, there have been newly developed guidelines that prevent geothermal heat from getting "stuck" in the ground.
Director of the Physical Plant Frank Mazzola said the geothermal energy is used to heat the common areas in the LLC including the lobbies and classrooms on the first floor, while the air sourced heat pumps are used for residents' rooms. This allows freedom for the residents to control their individual room's temperature.
KSC President Anne Huot said she understands how someone could see this as potentially wasting energy, but it's actually the opposite. "You'll probably notice when you're walking [around] the older buildings, sometimes even in the winter time, you'll see that the windows are open," she said. "That's because these buildings, a lot of them [but] not all of them, are heated from the central plant so you can't control it from within the building."
She said giving students their own control over their room's temperature is "an environmentally friendly way to heat and cool the building."
Mazzola said that having individual temperature settings for each room is beneficial for other reasons as well. "So say, hypothetically, the building is used for a two week long summer conference with 50 people. You know we would only have to heat or cool 50 rooms, not all the rooms in the building. That's another good reason for the individual controls," he said.
LLC resident and first-year René Jacobi said she didn't know all of that, but liked the idea of it and said it showed a lot about the college. "KSC definitely promotes being environmentally sustainable over other colleges," she said.
LLC resident and first-year Heather Chrimes said she agreed. "When I went on other schools' tours, they didn't show it as much as KSC did. KSC seems to do as much as they can to keep moving forward," she said, "which is definitely good, especially with Trump as our president."
Production and costs
One of the concerns about geothermal energy is how much water it uses, however Director of Physical Plant Mazzola said it uses a closed loop, meaning the water used is recycled. "So what we're doing is cycling water down deep into the Earth to take advantage of the Earth's temperature, but we're not withdrawing water from the Earth like a well," he said. "They're called wells, but it's really just a closed loop system, not unlike a radiator of a car, and so water and a glycol solution cycles through these 500 foot deep wells to absorb the temperature of the Earth or give up temperature to the Earth, depending on whether we're trying to heat or cool."
He said it took about 12 weeks to build 27 wells, but he didn't have a specific number for the budget. Geothermal energy can be quite costly. According to the website organization energyhomes, "On average, a typical home of 2500 square feet…will cost between $20,000 to $25,000 to install. This is around double the cost of a conventional heating, cooling and hot water system, but the geothermal heating/cooling system can reduce utility bills by 40 [percent] to 60 [percent]."
However, KSC President Huot said the initiative to make the LLC more environmentally sustainable was under budget. "One of the things that's impressive about the Living Learning Commons is that the cost of that building actually came in under budget. So even though we built it with all of these sustainable features, it ended out slightly under what we had planned to spend," she said.
Huot said that while the college is mindful of the cost, they try to be as sustainable as possible. "We look at sustainability really as a part of the college's mission and we think about both from the perspective of our buildings, so we always want to build green, as green as we can…sometimes that cost[s] more money, but it reduces our carbon footprint," she said.
How this impacts non-LLC residents 
Huot said KSC also considers ways they can be sustainable for educational reasons. "We've got our environmental studies program, we've got the R.O.C.K.S. program here on campus for recycling," she said. "We have been thinking a lot about how we can build sustainability into the curriculum."
Huot said focusing on what the students get out of all of it matters considerably. She explained KSC is looking to provide for "a steady state enrollment of 4,200 students."
"We have historically been a little bit bigger than that and so the reductions that we're making is really focused on being sustainable at 4,200, which doesn't mean we're not working hard to maintain everything, but we really want to be a student size that fits our physical plant that we have faculty and staff to serve," she said.
Huot said she doesn't want to force students to live in triples. "When I first came here, all the students were in triples because we [were] taking too many (students) and the demographics in our area are such that there are fewer and fewer high school students."
She said that small focus can allow for big change. "We're committed to contributing to a healthy environment and we want to walk the walk of being eco-friendly and so when we think about construction, we think about it from a sustainable perspective," she said. At an earlier point, she said, "In some ways, we're leading the nation as a college."
Dorothy England can be contacted at dengland@kscequinox.com