Keene State College students looking for non-work-study employment on campus may still be able to find it.
Student hourly employment differs from work study; student hourly comes out of department budgets, whereas work study is funded by the federal government.
With the recent budget cuts, Associate Director of Financial Aid Deborah Nichols said that the number of job openings hasn't changed much when compared to previous years.
Nichols said that the college spends between 1.1 and 1.2 million dollars a year on work study and student hourly.
"I know that we're spending the same amount of money," Nichols said.
Nichols said that the percentage of work study students compared to student hourly workers who receive payment from those funds could change, but as far as she knows, the number of students receiving that money hasn't changed much. She added that the college employs about 1,300 students a year.
"There may be a little bit of cutback on student hourly," Nichols said. "We're still hiring the same number of students that we've always hired," she continued.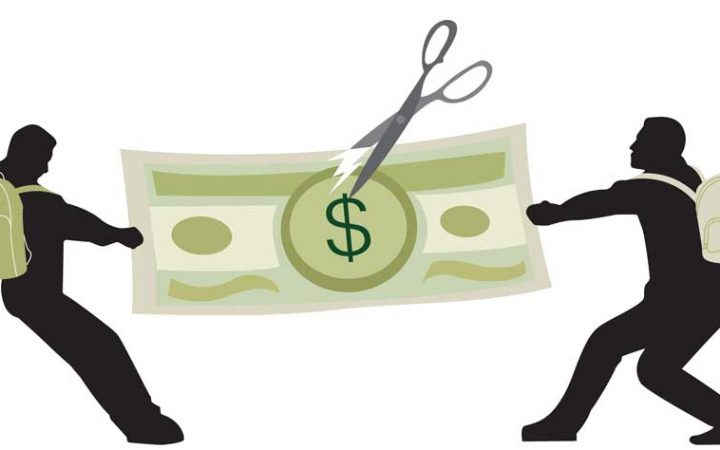 Nichols said that those who are still looking for employment should apply, follow up and then make sure to act professionally when conducting themselves in interviews.  She added that jobs and applications are available at events such as the job fair, and there are some reasons behind why students might not been able to find employment
"Did the student go to the job fair? Does the student's schedule match what the department needs? Does the student not want to get up at eight o'clock in the morning? So there's a lot of different criterias that go into it," Nichols said.
Nichols also emphasized following up on interviews as an indicator that the student really wants the job.
Payroll Coordinator Jim Tuttle said that the numbers regarding student employment can change throughout the year.
He added that students may only work for part of the semester due to departmental needs and the student's schedule.
The number of students working and positions available changes frequently.
"It's really a moving target," Tuttle said.
However, recent budget cuts have had an effect on the student hourly jobs at the KSC Bookstore. Textbook Coordinator and Assistant Direct
or for the KSC Bookstore Helen Babonis said that the store's budget has been cut and as a result, the staff has had to downsize by 10 student workers.
"Administration cut our student worker budget, so that kind of was an end to that unfortunately," Babonis said.
Babonis noted that she has also lost a full-time member of her staff that has not been replaced.
Because of the shortage of available staff, she said that hours for bookstore employees have had to change slightly to make sure that there is at least two people in the store at all times, along with an increased workload.
"It has been trying, especially the first couple weeks of school," Babonis said.
In addition, Babonis said that she and the staff have also had to close the convenience store outside of the bookstore early because there is no one to work the register.
Babonis said that regardless of the staffing shortage, the bookstore will continue to run, but admitted it will be a challenge.
"I think that for the remainder of the semester, there are going to be times that are going to be tough."
Current job openings for both work study and student hourly can be found on the Financial Aid page of the KSC website.
Jacob Barrett can be contacted at jbarrett@kscequinox.com