Imagine what it would be like to live with and observe moose in their natural habitat for a year. On Thursday, Sept. 22, that opportunity was given to the citizens of Keene at the Putnam Theater.
The film, "Moose: Life of a Twig Eater" is a PBS documentary that follows naturalist Hugo Kitching on his year-long journey to track a moose cow and its calf in Jasper National Park in order to determine why moose populations are declining. According to the film, only 30 percent of moose calves survive their first year. Throughout the film, many of the struggles moose are facing are discovered and explored, including parasites, predators and lack of food over the winter.
The audience at the show consisted largely of local residents who seemed enthusiastic about the program.
One audience member from the city of Keene Dr. Tom Hennigan said, "My wife told me about it a couple of hours ago, and I'm trying to be more involved with what's happening in the community. I'm also interested in the environment and ecology."
This event was certainly a community effort, as the Harris Center for Conservation Education partnered with the KSC Film Society to show the film.
Science Director at the Harris Center for Conservation Education Brett Thelen said, "One of the reasons we chose to bring this film here is because there's a lot of concern about the population declines."
Other audience members shared that concern and were interested in the film in order to learn about what is causing the decline and if there are any ways to reduce it.
Keene resident Leslie Crossmon stated, "I belong to the Harris Center for Conservation and Education, a nonprofit that heightens people's awareness of the outdoors. They put on a lot of programs for children about birds, reptiles and how to identify things.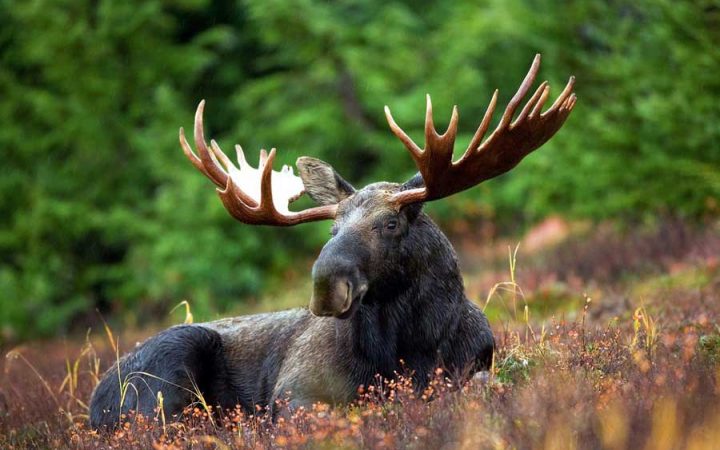 This was on their schedule tonight. I was curious about the moose and their sparse population, and seeing what efforts are being made to protect them."
Biologist and guest speaker Mark Ellingwood has spent many years working closely with these animals.
When asked about an interesting experience regarding his career, he replied, "Probably trapping and handling deer, because we've had to restrain deer physically. So that's something that's exciting, interesting and very challenging. The skill-set associated with that is somewhat unique."
After the film, a Q&A session opened up with Ellingwood who provided some insight as to what citizens can do to help the moose population and the overall environment, "All land conservation efforts are important, and in this case our footprint relative to the production of carbon contributes to the change in climate would seem like something we should all be concerned about to the extent we can demonstrate that it's actually happening, and all the signs suggest that it is."
The audience members all actively participated in the Q&A, asking questions about the film, Ellingwood's career or just curious about certain aspects of a moose's life.
Keene citizen Martha Bauman was pleased overall with the program. "I enjoyed finding out more specific information about NH moose and it was rewarding to hear him say that we're a leader in understanding the moose population."
The film "Moose: Life of a Twig Eater", had both interesting facts and crucial information about understanding the moose population and wildlife as a whole. While advocating the awareness of moose population decline and educating people on why it's important, the event was a success.
Audrey Kaiser can be contacted at akaiser@kscequinox.com