How the Hungry Owl helps students get food throughout the semester
Keene State's Hungry Owl Food Pantry has grown a lot since last year. With increases in student volunteers, assistance with raising funds, incoming donations and students utilizing the products, the Hungry Owl has been able to live up to its mission of reducing campus food insecurity at Keene State. Diferent projects going on within the Hungry Owl have not only helped the students, faculty and owls in the college but rendered support to the local food farms in Keene too. Senior nutrition major Robert St. Laurent, who is a student leader of the Hungry Owl, said, "At the beginning of the semester, we got a $500 stipend from the New Hampshire Food Bank with the stipulation to spend it at New Hampshire farms. Me and our advisor, Dena Shields, have been spending it in a lot of local farms like Piccadilly, Alyson's Orchard and distributing them for free to students." The Hungry Owl pantries are flled with mostly canned and boxed items because fresh foods are hard to keep stocked. Supporting Laurent's project, on November 22 and 29, Hungry Owls organized a fruits and vegetables giveaway in the Student Center from 9 a.m. to 1 p.m.
Laurent said, "By having an event like this in the Student Center or Appian Way, we will have a lot more food trafc where we will see 100 students at a time. Typically, we move between 250 to 500 pounds of product just in that event alone, compared to 30 to 50 in a regular Hungry Owl shift."

Another nutrition major student leader from the Hungry Owl, Gabrielle Paquin, added, "Many of the students don't know who we are, where Joslin House is or where other locations of our food are. It's easier when it is in Appian or Student Center as it helps the products reach more students."
As we near the end of the semester, the Hungry Owl doesn't plan to hold this kind of outdoor event very soon but everyone is always welcome for the pantry service.
The Supplemental Nutrition Assistance Program (SNAP), a federal program which provides food assistance for people in need, is also something the Hungry Owl works on. Paquin, who is also a SNAP mentor, said, "SNAP benefits are essentially free money which can be used at grocery stores and certain farmers markets. In [the] Hungry Owl, I help students meet with me, talk about their situation and go through the application process if they qualify for it."
This resource with such meaningful impact is underrated at Keene State. Laurent said, "Recently, we did a date walk and pulled a bunch of food and a couple of products that were going out of date."
"I wish more people knew about [the] Hungry Owl and its services as we try our best with social media," Paquin added. With that note, Hungry Owl really urges everyone in the college to make use of this resource.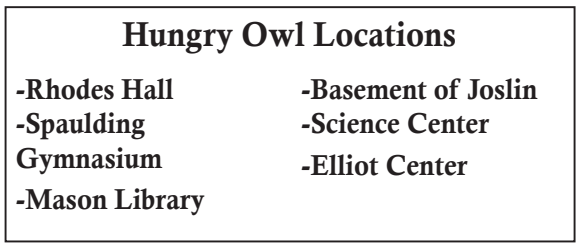 Nirmala Tamang can be contacted at ntamang@kscequinox.com