'Rebecca on the Bus'
For her Directing I project, Skye Robicheau directed "Rebecca on the Bus" which deals with the topic of rape and how the characters within the show view the subject.
The main character, Rebecca, tells her two friends Jane and Lynn that she was raped for the third time, while they are in a coffee shop. "It's basically about how they're coping with it," Reilly Salvador, the actor that plays Lynn, said. "The different worlds kind of come together…they're trying to see the world in a different way."
Lynn is the only character out of the three that has never been raped. "She's not where the other girls are," Salvador said. "She's not as mature as the other girls because of what they've been through… but she's kind of the glue that keeps them together."
Having been sexually assaulted multiple times throughout her college experience, Jane isn't as sympathetic to Rebecca's rape. Actor Lydia Wright described her character Jane to be emotionally distant. "She's been through so much that she's numb to everything," Wright said. "And she kind of pushes away other people's feelings," Wright said. Jane, being a more dismissive character, symbolizes society's dismissiveness on the topic of rape overall.
Alyssa Grosso, who played Rebecca, expressed how her character represented society as a whole, "It's easy to say she is this broken character," Grosso said. "But I really think [my] character is meant to give this message to society [that] these people's voices need to be heard, and things need to be taken more seriously."
Robicheau chose this play specifically because of it's hard-hitting subject. "For me, I think this show is kind of like a symbol of hope," she said. "In the end, it has this beautiful hopeful moment of what the world could be, if people stood up."
Robicheau and the cast were impacted by this show and they hope the audience was too. "I want the audience to understand that things are happening in society, that they might not be able to see, but are still happening," Robicheau said. "Victim blaming needs to stop. These are not victims; they are survivors."
Nicole Dumont can be contacted at ndumont@kscequinox.com
'Aisle 17B'
As part of a Directing I project, sophomore Tyler Nash directed a 10-minute play entitled "Aisle 17B."
"Aisle 17B" is a "politically-driven drama comedy." As Nash describes, the play is a "Seemingly benign argument between two friends in a grocery store that spirals into an unsettling cross dimensional spiritual encounter, revealing the proximity and complexity of the world's hunger crisis. And it deals with our ethical responsibility, the ethical responsibility that we all share, in providing for and caring for those around us, and it deals with that idea. If we have the means to help a certain person or group of people. Is it our moral responsibility to do so?"
The 10-minute play tackled the theme of hunger. "I knew that I wanted to challenge an idea that [is] something that we all kind of innately share," Nash said.
Nash continued, "What immediately came to mind was like, the privilege that we all kind of have in this modern world that we're maybe not all necessarily aware of. So I thought of the hunger crisis that's really global, and not just like in other parts of the world, but also here in the States."
By definition, directing involves working with the actors. "My actors have been phenomenal," Nash said.
"I have three actors, and they're all kind of like out of the department. One of them is a minor in acting, so it's been cool to work with newer faces and people who aren't necessarily a part of this theater world at Keene State and being able to pick their brains as well," Nash said.
Nash explained he tried to make the rehearsal process as collaborative as possible. "I'm a frm believer that a director is not meant to be a dictator in the room. And you have three other brains in the room with you. So yeah, you have your creative vision. But it's so important to ask questions and see the world through their eyes as well," Nash said.
"Aisle 17B" was performed on December 4 and December 5.
Tom Benoit can be contacted at tbenoit@kscequinox.com
'9'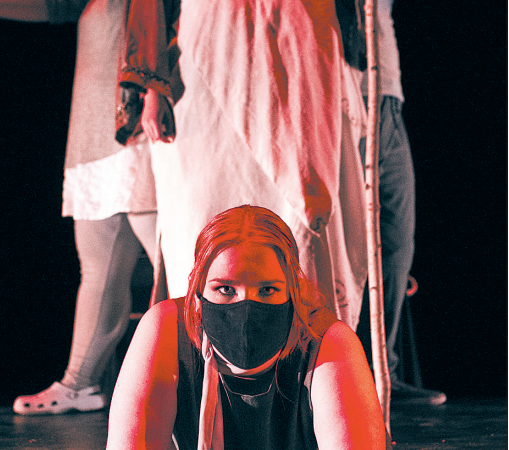 Senior Sean Gregoire directed "9," a 10-minute devised play based on Dante's "Inferno." The show had a four-person cast of KSC students Erika Walker, Abigail McBride, Steven Cere and Hannah Showalter. The show, along with the other two Directing I Projects, were showcased on December 4 and 5 in the Wright Theatre.