A look at how KSC students get involved with local and national politics
These Keene State College students are acting as the voice of the student body.
Junior and Student Body Vice President of Student Government Paula Durant said student government and participating in political discussion is a great way to advocate for what students believe in.
"If there is a change that you want to see at the school, an amazing way to get your voice heard is joining student government," Durant said. "Politics in general, I think, is always a fantastic way to get your voice heard."
Durant added that she thinks all students should get involved in politics in some capacity. "I think if you talk to any person on this campus, they feel passionate about something," Durant said. "I think it's important that every single person has their voice heard no matter what their opinion is or how small they think their opinion is. It matters."
Durant, who is a political science minor, said her interest in politics came during her first year at Keene State. She originally came to the school as a Holocaust and Genocide Studies major and joined Student Government alongside many of her friends. Durant added that some of the legal studies classes she took included a curriculum that intertwined with politics. This exposure to politics helped nurture an interest in the subject for Durant.
Keene State senior and Student Body President Caitlin McCracken said the student government works closely with KSC President Melinda Treadwell and her cabinet. "It's good to feel like they respect and they want to hear the students' voices and we act in that role to provide the voice of all the students."
McCracken added that student government tends to be a "gateway" for students who have an interest in politics to begin their journey into the subject. On top of political science students, McCracken said the organization is made up of students of many different academic backgrounds and who may be involved in other organizations.
Adjunct Political Science Professor Sean Filiault said there are several groups students can seek out to get involved in politics with like minded individuals. He added Keene State has a Young Democrats and a Young Republicans club as well as other issue-specific student organizations such as a Feminist Collective. Filiault said he's seen students in the area engaging in political discourse, but not as much as he would like.
"It's still a challenge to get students to be involved in political organizations," Filiault said. "I know the Keene Democrats are running on a fairly sparse crew and I imagine it's the same for the Republicans."
Filiault said that participation in politics among young people, 18 to 29, is a common trend nationwide. A reason for this, he said, is that some students may not be getting engaged in local politics, because it is not the area from which they are from. Filiault added that voter participation tends to be more common among an older demographic. In the 2020 election, voter turnout for those aged 18 to 34 was 57%, age 35-64 was 69% and age 65 and older was 74%, according to Census.org.
McCracken said she encourages students to get involved in their community. "It allows them to feel more at home for a lot of people," McCracken said. "A lot of people describe college as their second home so providing different opportunities and hosting different events allows students to get out of their dorm and make them feel more welcomed and have that sense of community that college should bring to them."
McCracken said any students with concerns or matters they want to address should contact their class officers and they will be able to attend the organization's meetings.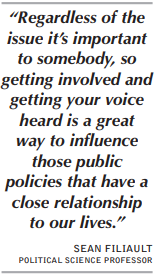 "I think encouraging them to start small and share their opinion can open more doors for them," McCracken said. "Starting slow and sharing their voice is a gateway for them to increase their potential throughout campus life as well as beyond campus life after they graduate."
Filiault said joining political groups and voting is a great way for students to voice their opinion on candidates or issues.
"Politics affects all of our lives," Filiault said. "Regardless of the issue it's important to somebody, so getting involved and getting your voice heard is a great way to influence those public policies that have a close relationship to our lives. Change doesn't happen until people get involved to make the change happen."