The eco-reps program makes change to student-run org.
The Keene State Eco-Reps program is becoming a student run organization.
Budget cuts within the Office of Sustainability caused the environmental program to transition from offering student employment to encouraging student leadership this semester.
In previous years, the Office of Sustainability offered on-campus jobs to Keene State students through EcoReps, a program that strives to promote sustainability like green living and eco-friendly lifestyles. Over the summer, however, the Office of Sustainability reduced their staff, and didn't have enough funding to hire many students in the fall.
Senior Dan Humer said he was worried that the Eco-Reps program wouldn't be able to run this semester due to the decrease in funding.
"I was just afraid over summertime that the Eco-Reps wouldn't be there at all, because what I've heard is the EcoReps is one of the remaining environmental programs on campus, and it would be too bad to go forward with Keene having no environmental program besides ROCKS," Humer said.
The Eco-Reps program is going through the process to officially become a student-run organization. In order for a student organization to be formally recognized, they must have an advisor, a constitution, and at least 10 members, which the Eco-Reps now have. Senior Mara Grady said the Eco-Reps are also changing up the program this year to adapt to the new budget.
"We're trying to reconstruct what a student organization looks like versus a student on-campus job… We're not necessarily rebranding because we're still doing the same things, but we're trying to figure out, how do you incentivize students to actually want to get involved without being paid?" Grady said. "I mean if you care about it enough, you want to be there."
Sustainability Coordinator and Eco-Reps Advisor Linsey Edmunds said over 80 people signed up for the Eco-Reps at the student involvement fair last week. Edmunds said she is excited about the new members because of their passion for making a difference.
"The more I get to know this generation and this incoming class, is just how passionate they are about sustainability, and the environment, and climate change, and making a difference. So I'm really hoping that Eco-Reps can have a solid foundation and get connected to those students and that passion and energy," Edmunds said.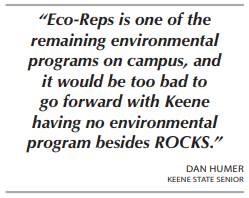 Edmunds also said despite the decrease in funding, she hopes to still be able to pay involved students a little bit.
"You can actually get stipends for people that are in student organizations, so that's the route I'm hoping to be able to access… My understanding is that it is for the leadership or executive board, but I would really like to explore options of stipends for members that are actively engaged in being out in the community, representing how to live more sustainably," Edmunds said.
Edmunds said Eco-Reps is a great program for students who are passionate about anything green and eco-friendly.
"We're really hoping to be like the hub that houses all of those environmental passions, and facilitate that change on campus through student action," Edmunds said.