Joseph Guzman
Arts & Entertainment Editor
On Wednesday, April 24, nine different acts with solos, duets, and group performances came together for the annual Milli Vanilli Lip Sync Contest hosted by KSC class of 2020 in the Mabel Brown Room. The concert was ranging in genre from older pop and soul songs to joke songs by weird Al Yankovic. These thirteen different contestants crammed within nine acts went against each other for a $100 gift card to Target.
The class of 2020 wanted to end the semester off on a high note, with the event being judged by Keene State's Jen Ferrell, President Melinda Treadwell, Dr Kemal M. Atkins and Sarah Dugas.
The event closed with winners Senior Alexander Woody (third place), first-year Suthasinee Williams (second place), and first place winners where the group "Honesty's Child." This name played  off of the pop stars  "Destiny's Child" by lip syncing and coming up with dance choreography for their hit single "Soldier." Woody landed his third place position by lip syncing to "Ebay" by Weird Al Yankovic and Williams earned her 2 place spot by lip syncing "Family Affair" by Mary J. Blige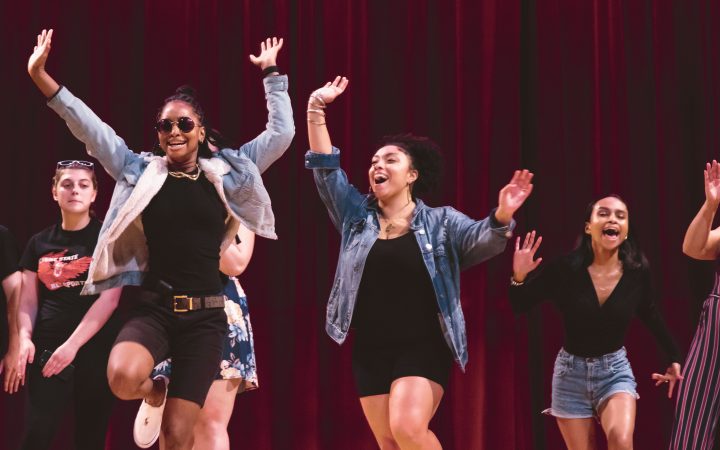 Woody explained that "I haven't (done the lip sync contest before). Well, I just saw [an] email going around. I realized I didn't have much going on tonight. So I figured 'sounds fun, might as well,'". He said, "I wanted something I knew would have fun doing and I knew very well. Ebay has always been one of my favorite Weird Al songs, it's one that I've practically memorized to a tee. So I figure 'Hey, ya know, this is something I know incredibly well and will have fun doing.' That's what I was trying to go for." He added that he doesn't have a favorite genre but he loves lip syncing to Weird Al music. "Weird Al music I always find myself lip syncing to whenever I listen to it. The genre I listen to the most is quite different; it's heavy metal. But I find myself lip syncing to Weird Al a lot more than heavy metal," Woody said.
Williams first mentioned that she hadn't done the lip sync contest before, and shared how she found her song, Family Affair.  "I just wanted the song to connect with everybody, because music is a universal language that can make everyone happy and sad at the same time. It's a language to everyone," Williams said. She also explained what it takes to have a good lip syncing performance. Williams said, "First, you have to remember your lyrics because you can't do good if you can't remember the words. Second,  you need to have a connection between you and audience—you gotta make the crowd cheer for ya!" She also said that she would be willing to do this again next year.
The winning group, "Honesty's Child" is made up of sophomores Jennifer Meija and Honesty Johnson as well as first-year Genesis Rivas. "First we wanted to do (Lil Nas X's) Old town road, but then we were like 'No, we can do something better.' So then we saw Beyonce's Homecoming performance on Netflix and decided we wanted to do something for the people and culture," Meija said. Johnson explained, "We had to do (a Destiny's Child song) for the people. For real, we wanted to do something that was what we would listen to in general." They all also said that they enjoy lip syncing to rap and they plan to come back  "and reclaim our title next year!"
Joseph Guzman can be contacted at
jguzman@kscequinox.com