Selena Legacy
Equinox staff
The Child Development Center (CDC) is an organization here on campus. The CDC serves children and families from both Keene State College and the greater Monadnock community, with children ranging from four months to four year olds. This organization has been around on campus for decades.
Early Sprouts is partnered with the CDC and is a program to help young children understand nutrition and help them get excited about healthy options.
Deirdre McPartlin is the director of the CDC, and she shared through email how the Early Sprouts program was created, "In 2005 Dr. Karrie Kalich, Dean of Sciences, Sustainability and Health, approached the Child Development Center with a nutrition program she designed based on theories of behavioral change. She partnered with the CDC staff to integrate early childhood education practices with the nutrition expertise to design the curriculum."
Children are offered an experience to work hands-on with food prep, like cutting, blending and mixing. Then they provide feedback.
McPartlin said,"Early Sprouts is an evidenced based 24-week 'seed-to-table' gardening and nutrition curriculum and includes sensory exploration activities, cooking activities and family involvement activities. The activities are designed to engage children's senses, foster an understanding of the food source and support healthy eating. The organic raised-bed gardens are on the playground, so children can interact with planting, growing and harvesting all within their natural environment."
Early Sprouts makes it a goal to teach kids the importance of healthy food and letting them try it, in turn forming their own opinions first hand.
"The recipes were designed by a nutritionist and highlight a target vegetable each week. All recipes use ingredients that are low-sodium, low sugar, whole grains and healthy fats. The recipes are served as part of the weekly snack menu," McPartlin said.
These types of programs are helpful to kids even as they grow up, creating better meal choices.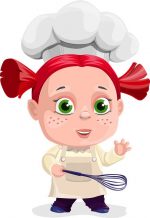 "The program promotes healthy habits when dietary habits are forming (during early childhood) and aims to create lifelong healthy habits," McPartlin said.
Feedback from both the children and their families have helped to promote the mission behind Early Sprouts.
"Families [have reported] starting or increasing home gardens and seeing an increase in vegetable eating among the family. Children are engaged and are trying new foods, and have positive social experiences at snack and meal times," McPartlin said.
McPartlin also explained various positions, "We provide an internship in our preschool for practicum students from the Public Health-Nutrition program, as well as a volunteer position in our toddler room. The college students implement the curriculum, provide nutrition expertise and increase their understanding of early childhood development."
Anneliese Stevenson, the intern for the preschool classes aged three to five, shared, "The preschoolers help me prepare the snack and I talk to them about the nutritional values and provide nutritional education at a basic level. We talk about the taste textures and what they like to eat with their families. When they eat, they talk about how it tastes and if they would eat it again."
Early Sprouts tries to steer towards more cold things that the children can do.
"The main goal is to have a nutrient-dense snack every day. I also think it provides nutritional education and gets them excited with being involved with cooking, which is really important for this age group," Stevenson said.
"The best tip and trick to do when you have picky eaters is to let them be involved, because once they have been involved they are more liking to try the snack [as] they made it themselves," Stevenson said.
She loves seeing them so happy and excited over vegetables and fruits, but never forces them to try.
"They want to learn so badly and they ask so many questions, you do have to have the patience and child background as well," Stevenson said.
Stevenson works with kids in each class, and says this program is really helpful for where she is headed after college. Stevenson says she loves the environment this program gives. 
Jenna Salkovitz, the nutrition volunteer for Early Sprouts in the toddler classroom aged from one to three, walks through her weekly routine, "I prep everything first. They wake up from [naptime], then kids get ready with their cutting boards and safety knives. I walk them through what they're cutting [as they are] trying it and describing it. Once they lose focus I start cooking everything, they like to watch, press buttons and [listen] to the sizzling noises."
Salkovitz is a nutrition major and started volunteering her first year, and has been loving working with the kids ever since. She cherishes the memories she can make with the kids and how eager and willing they are to learn.
"I feel like they are all my children, I walk in and they know we are cooking today and they get really excited. You get so close to them and seeing them excited makes you excited," Salkovitz said.
In the future, Salkovitz hopes to see more/all schools and daycares incorporating Early Sprouts and other cooking options for that young age group.
"You want to expose them to fruits and vegetables because that helps with healthy eating habits and makes them stick with it. They are more liking to try something when they see [us] eating it then their parents," Salkovitz said.
Early Sprouts tries to incorporate local and organic foods. Especially with the allergies of some kids.
"The recipes are really good, I even make them at home and they are really easy," Salkovitz said.
Salkovitz's final remarks were, "I think everyone should do it! Everyone there is really awesome. I think more people should apply to this organization because many don't know about it here on campus."
Selena Legacy can be contacted at
selena.legacy@ksc.keene.edu