Alex Harvey
Equinox Staff
Several members of the Keene State College faculty recently took a trip to Poetry Bridging Continents: From Walden to the Yellow Sea, a poetry conference in Yancheng, China. Archivist Rodney Obien, Dean of the Mason Library Celia Rabinowitz, Professor of American Studies Mark Long, and Professor of Journalism Rodger Martin, attended the conference.  Dean Chen organized the conference at Yancheng Teachers University in Yancheng.
This was the second Poetry Bridging Continents symposium.  Last year, the first one was held at Keene State College, beginning the connection between KSC and Yancheng.
"They invited us this year.  And we're hoping that they can come back next year, and that they can come to New England College…We gave them a bunch of our books that we published, essays, and so on, and they also gave us some of their books too, which we are putting in each other's archives.  It's a way of making this cultural exchange a little more permanent, it's not just the human connection that results from those kind of exchanges." Long said.
The American poets and scholars who attended the conference spent their first night in Shanghai and visited the Bund of Huangpu River.  The next day they visited the Yancheng Teachers University Library, where Rabinowitz exchanged gifts with the dean of the YCTU library.  The symposium began on November 12, and  Rabinowitz and  Martin made speeches at the opening ceremony.  A highlight of the symposium was a poetry reading by both American and Chinese poets, with poems being translated in both languages on an LCD screen behind the poets.  The professors noted that poetry readings are quite different in America and China.
"They tend to read their poems set to music.  It was interesting because when we got up to read our poetry, the ones that we were to read, it was to music, which was a different experience.  There it's more like a variety show.  Students were dressed up in traditional costumes, it was a performance of sorts.  It was not going to the local cafe and reading poetry.  It was definitely a performance that involved music, I wouldn't say any acting, but it was definitely staged that way.  For the poets coming from America it was quite an experience," Obien said.
"The poetry readings that they did were very performative, so there was often music or it was much more dramatic and composed, the poems were memorized for the most part, that was really neat to see," said Mark Long.
After the symposium at Yancheng Teachers University, the delegation from KSC attended a second poetry event in Yellow Sea Forest Park, called "From Walden to Yellow Sea Wet Land".  Over the next few days they visited Taizhou City, Yangzhou, Taicang City, and Jinxi.  They returned to Boston on November 17, having stayed within the wealthy Jiangsu Province for the duration of their stay in China.
Calligraphy is an integral part of Chinese culture according to Chen, and evolved from practical everyday writing into an independent art.
"Calligraphy itself is not poetry, but it is always closely associated with it. In ancient times, when literacy was not popular, only the literati could read and write; and almost all literati could write poetry, so we can almost say that almost all poets were calligraphers. When a poet wrote his poem on a piece of paper or on the wall, we had two pieces of artwork: one is poetry, the other is calligraphy," Chen said.
The Americans thoroughly enjoyed the entire conference.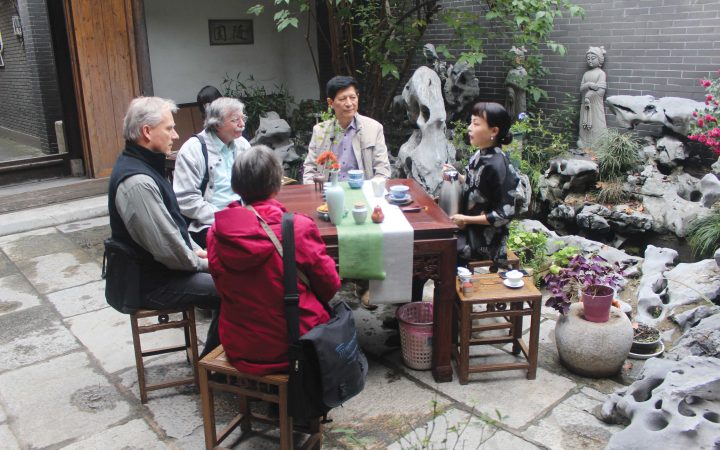 "Off the top of my head, I don't have a favorite poet because they all come from different places. One of them was writing about the landscape we were traveling in.  He had grown up in the rural farmlands of Yang-Su province, and he went to university and became a poet, so he talks about the birds and the wetlands and fields.  I just enjoyed their work and discovered that they all have a deep appreciation for American poetry. I also have an interest in ancient Chinese poetry,so it was really fun to talk with them about that," Long said.
While Long may not have had a favorite poet from the conference, he might have enjoyed the food the most.   
"The food was really good.  I realized I had never had Chinese food until I went to China, because we don't have Chinese food here.  We have something called Chinese food  but it's not the same…it was a lot of duck dishes, a lot of fish, freshwater crabs," Long said.
Chen spoke highly of his American guests.
"There are many similarities between YCTU and KSC. They both began as a 'teachers university', and YCTU still is.  All of our American friends were received as distinguished guests. Six of the seven people were their first time in China.  They witnessed a China which was different from what they knew from the media," Chen said.
Long also remarked on the importance of promoting cultural exchange between America and China.
"We [America and China] are so different but we're so alike. Our traditions are different but they are also deeply interconnected.  We live in a small world and we should be more connected," Long said.  "Often political events and political stories talk about places in the world but those are all stories.  They don't make much sense when you actually connect with real people.  I hope to go back to China.  I would also love to get students involved in opportunities. I would like to see some more cultural exchange with China."
Rabinowitz did not respond for comment.
Alex Harvey can be contacted at:
aharvey@kscequinox.com