Sebastien Mehegan
Administrative Executive Editor
Philanthropist is not a word often used to describe a video game enthusiast, until now.
Keene State College student Kyle Woodward, with the help of the Gamer's Guild, put on a charity event called Extra Life starting on Saturday, Nov. 3, through Sunday, Nov. 4.
According the extra-life.org website, "Extra Life unites thousands of gamers around the world to play games in support of their local Children's Miracle Network Hospital. Since its inception in 2008, Extra Life has raised more than $40 million for sick and injured kids."
Woodward said, "Right now we are playing games to heal kids." This statement is also included in the Extra Life motto.
KSC senior Katie Walsh said, "A lot of times, people get lumped into basement dweller status and [people] don't really see that the hobby itself that is playing video games can be used to do good things."
Woodward said he and other members of the Gamer's Guild were raising money for Children's' Miracle Network Hospitals. He wanted to focus his group's aid more towards one specific hospital. "We are raising money for Children's Miracle Network hospitals, more specifically Boston Children's [Hospital]," Woodward said. "I wanted to be able to give back to the hospital that helped save my sister's life." He said when his sister was 18 she was struggling with depression and mental breakdowns. During her struggle she had gone to their local hospital to no avail. "…Then we went to Boston Children's Hospital and she was able to get the help she needed. She was there for a while but she was stable. My stress level went down because she was getting all the help she needed," Woodward said.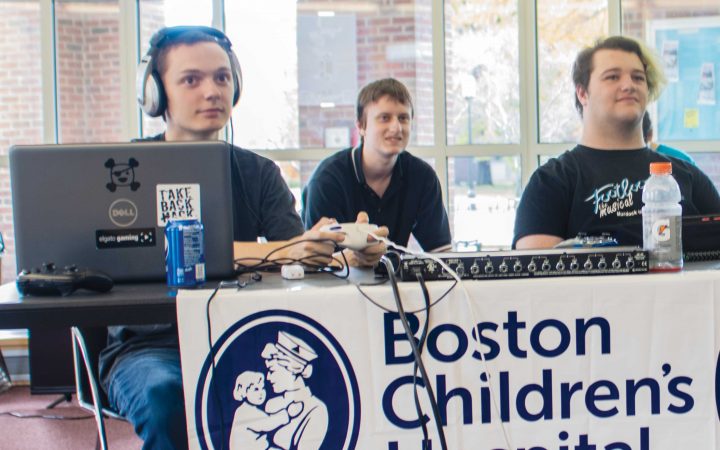 Along with the fact that this was a gaming charity event, there was still another twist. Woodward said this event was supposed to be a 24 hour event, however, due to the fact that Nov. 4 was daylight savings, the event went on for an additional hour. "We're here from 9 a.m. November 3 to 9 a.m. on November 4." Woodward said.
Woodward said he discovered the Extra Life program through a friend. "He's doing his sixth one right now while I do my first one."
In terms of attendance, Woodward said they had opened a live video game stream on Twitch.com so anyone could view their progress through the night or even donate through his personal account. "I began reaching out to friends and Keene State students that had an interest in playing games. I spoke to Gamer's Guild and asked the members of Gamer's Guild if they wanted to help out and that's how I found a lot of these guys… Now we are just playing games."
Walsh said she heard about the event through flyers posted in her residence hall. She recognized the title Extra Life: "I've kind of heard other Youtubers doing charity streams and that's always been kind of interesting so I thought I'd check this one out since it's actually going to be held on campus."
Walsh said she had a lot of fun at the event even though she isn't a member of Gamer's Guild.
Sebastien Mehegan can be contacted at smehegan@kscequinox.com