Adriana Sanchez
Social Media Director
Senior and Captain of the Men's Swim Team at Keene State College Zach Collins decided he didn't want to have so much free time on his hands after the season ended. So he decided to join the Rugby club team here at KSC his sophomore year.
"I felt like I had so much time on my hands, I love to be busy all year long, so for me to not have anything to do in the spring is nice in a certain degree, but also you have a lot of energy and you don't know what to do," said Collins. He originally didn't plan on joining any sport when coming to college. "It was a lot in high school. I would do football in the fall, swimming in the winter and track and field in the spring, so I didn't know if I wanted college to involve athletics and suck up a lot of my time," Collins said.
Collins wasn't recruited for swimming coming to KSC. "I reached out to coach Chris so as soon as I talked to him, he looked at my times. We go into communication and he wanted me to come here and I ended up coming here," he explained. Collins added, "Swimming keeps me in shape, I love the team, I love swimming and I'm really glad I made the decision to play."
Coach of the men's swim team Chris Woolridge said, "Zach has been great, he's worked hard, he's been a good teammate and very involved around the campus, it's been a pleasure to work with and that's how he ended up being a captain."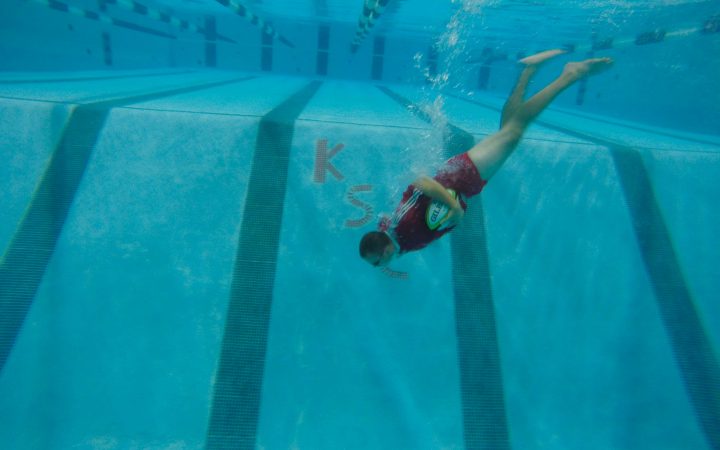 Collins said his sophomore year, he wanted to do something more physical but team oriented at the same time,, and rugby was that sport. "It's nice to run around and do something with my feet," He said. When talking about how the team chemistry is between both sports, he said, "You all become family by working, winning or losing together, practicing together, working hard, have tough practices you have to get through. Swimming is very individual and team oriented — in a way where you score points to win meets, but also have individual times you're trying to beat. Rugby however, you can try to score more, but it's more team oriented. The whole premise if you guys win or lose not if you did good or bad. It's a lot more focused on team performance."
When Collin joined the rugby team, it was his first time playing the sport, so he had to learn the rules on his own time. "It was easy to pick up but hard to master, so I watched lots of game footage of different rugby matches," he said.
Collins said he usually plays as a prop for rugby. He said, "A prop is usually for bigger guys, usually you have props on either side and pick somebody in the middle upwards… So when you have a scrum — which is two teams going at each other and drop the ball in the middle —  the props help move and protect their teammates, and allow the middle teammate their supporting to kick the rugby ball behind them, and get out possession of the ball. It's a very big physical up-front position."
If there was enough time in the day he would do both. "I wish I could do both at the same time, and be there and support my rugby team. It's the same thing in the spring, we have kids doing intramural that are on the swim team," Collins said.
Being on the swim team helps him kick into gear when it comes to rugby season. "It's very refreshing after spending six months in the water and then go to running around, swimming gets me in enough shape so I can start running around with minimal difficulty," Collins said.
Another thing that has helped Collins is the mentality that comes with both sports. "What I always taught myself and heard from people is 'get comfortable with being uncomfortable'. So when you're sitting there in the water, going from one side to the pool to other side, and you can't breathe, and feel like you're going to pass out, but you know you're not going to because you've trained for this — it's uncomfortable, but you learn to deal with it," he said. He explains how this helps him with rugby, when it comes to getting hit and wanting to give up.
Collins said he has dedicated his time when it comes to swimming. "I'm very lucky to be able to do both, the school does very well too. I arrange my classes to work around swim season while still getting all the classes I'm required to take," he said. When it came time for rugby, Collins didn't have classes that interfered with his practices, so he was able to make it to them.
"I've enjoyed both sports so far. It's a sacrifice of your time, but I look back and I don't want my college experience to have 'what ifs'," Collins said.
Adriana Sanchez
can be contacted at
asanchez@kscequinox.com