Kiana Wright
Opinions Editor
12 p.m. Saturday, September 15 kicked off Alumni weekend where faculty, staff, and students welcomed more than 70 years of alumni back to Keene State College. The special day marked the class of 1968's 50th reunion; transitioning them into the Golden Circle (which is when an alum has been graduated for 50 or more years). The day was filled with awards, food, sports events, art, and a lot of catching up.
At noon the commemoration began with the alums paraded down the iconic Appian Way, separated by class and led by alumnus Mark Polifrone who played the bagpipes.
Andrea Vickers-Sivret, KSC Alumni Reunion Coordinator and alum of 01' said, "I think the parade of classes was the most touching or the most impactful." The parade of classes is traditional event that started off the sunny day.
As everyone completed the Parade of Classes, everyone made their way to the Mabel Brown room; where lunch was served, awards given and history made. Before the awards were given out alums talked about their experiences at KSC, some over 50 years ago.
Gary W. Howard, 1968 graduate of KSC and member of Kappa Delta Phi, said it is his first time being back on campus in 50 years. He went on to say that when he came on campus he couldn't find Appian Way: "I was looking for Appian Way and I was standing in front of the library, but I'm looking for a road."
Howard said when a professor came out and told him he was standing on it, it came as shock; back when Howard came to school here there was a two way road down the center of campus aka Appian Way.
Kim Bateman Carter, an alum previously on the basketball and field hockey team, said she also got lost because of all the new architecture on campus. "I have a hard time getting around because the buildings have changed so much… but it's a beautiful campus, it's always been a beautiful campus."
Jim Barry, class 1967 KSC graduate, whose father and brother also attended Keene State agrees that the Keene State campus has a new look to it from what he remembers. "It's amazing to see all the changes. Everytime we come there are more new buildings. Place looks beautiful."
Howard said, "I had a wonderful experience at Keene State. I have no regrets whatsoever. I met some great people."
Carter said, "We had a good time, the studies were good… and the college helped me get a job right away." Carter has been at that job teaching elementary Physical education at Londonderry, NH for 28 years. "I was well prepared," she said.
As the alumni began to finish their lunch, it was time for the awards. There were four awards given out: Outstanding service award presented to Bob Merrow, Alumni inspiration award presented to Stephanie Gleeson '05, Alumni achievement award presented to Mary Powell '80, and the Sprague W. Drenan award presented to Dorothy Jobin '62 and Raymond Jobin '63 M '70. These awards are given to alumns that are very special to the school.
One alum, Norma Walker '51, is exceptionally special to Keene State for her time she has given back and her love for the school said Vickers-Sivret. "She is the catalyst for so many of the connections, and keeping the golden circle connected." Vickers-Sivret said
Vickers-Sivret said that Walker still works very close with the school, "You never know when she's going to pop up. She's like a coworker, which says a lot for a volunteer."
Walker was commemorated for her excellence from being a student, to a KSC teacher, and now one of our most recognized alumnas. And for this Centennial hall was announced to be the Norma Walker building. When presented this, Walker said she was overwhelmed: "I had no idea. I just can't [believe it.] I don't know what to say."
Dr. Melinda Treadwell, KSC interim president and KSC graduate of class '90 said, "[Today's] been fabulous. Very emotional to just name a building after Norma Walker; that's incredible."
Many recognized each other and reco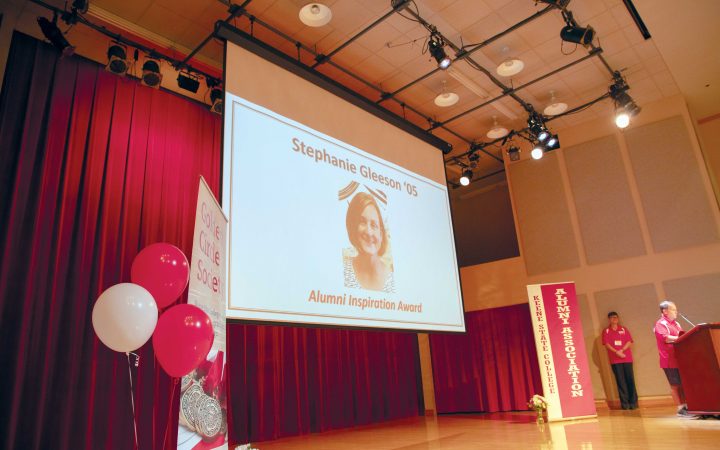 nnected. Carter said even though she saw some familiar faces, she wish there were more. Barry said he saw a couple of his previous teachers from the Wheelock school. Howard described seeing his fellow alums as a sort of paradox. "This is somewhat like the Twilight Zone, where you haven't seen people in 50 years and you're going back in time."
Treadwell said being an alumna as well as the president is sort of strange: "It's not a common thing actually for a president of an institution to be an alum of that institution."
Treadwell said having that past with KSC only makes her position more special. "It's a huge privilege and honor. And it's easy to advocate for Keene State because I know what it meant for me. It's much more personal,and it's not just a job."
Students listened to our alumni on campus, sharing their experiences when they were enrolled here and what they did when they left the nest. Vickers-Sivret said, "Often what they are most excited about is when they get to engage with students."
"We love seeing the kids being as excited as we were, for me 45 years ago now," Carter said.
The leadership panel included three alums that show leadership and distinction. They spoke about their educational and work related achievements, trying to inspire students to do the same.
Senior Zachary Howe will be graduating just around the corner with three degrees in criminal justice studies, sociology, and Holocaust and genocide studies. Howe said, "I think it's [alumni weekend] is extremely important. It keeps the years of students just coming back and coming back."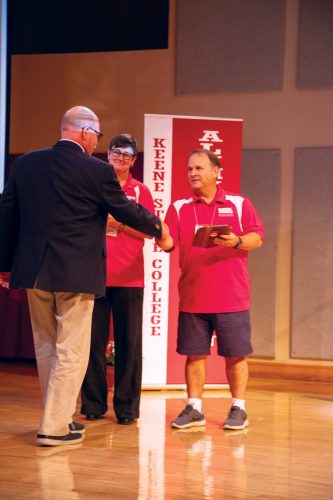 Howe thinks it's importance for students to see the alums and heard about their achievements: "It shows what can be and what's possible."
Junior early childhood education and informational science major Brook Arruda, said she believes that alumni have the power to encourage students to keep going. Arruda said that seeing alums makes students feel like they can do it and makes them want to be able to come back and do the same: "[graduating students] will move on in their lives, then come back here once a year to share their accomplishments."
Vickers-Sivret said that even though we have not all graduated together, there is something that connects us. She said that she hopes students see themselves as future alumni owls: "It might seem like a long time while your students, but it won't be long until you are, and you'll be one of us."
Vickers-Sivret said after last years trial of having the reunion in June and September, this year marked the first official reunion in September; ending the usual June celebration. Vickers-Sivret said many of the events over the weekend are traditional including the parade of classes, the luncheon, ice cream social, and the president's brunch. This year they tried out new events like the KED talks, the leadership panelist, and the tailgate tent.
For any information regarding the KSC alumni association contact Scott Kuhnly from the graduated class of '88 who is also the Keene State College Alumni Association President. For anything regarding alumni weekend contact Andrea Vickers-Sivret.
Next years alumni weekend will take place sometime in September 2019 and will be celebrating the graduated class of 1969.
Kiana Wright can be contacted at
kwright@kscequinox.com