Thousands of people gathered for Marathon Monday on April 16, to participate in the 2018 Boston Marathon.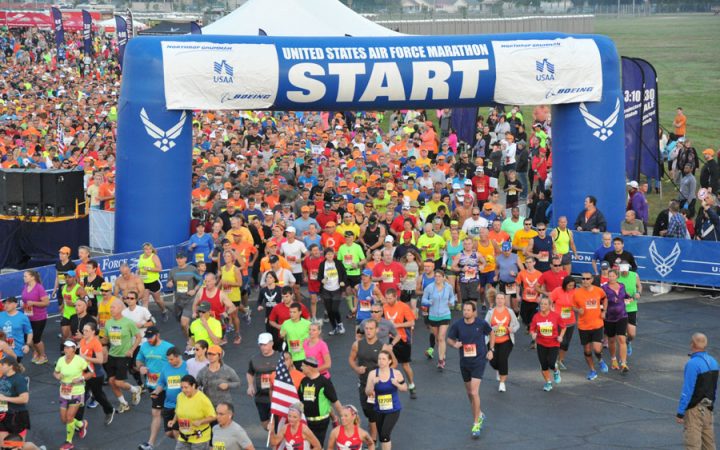 That group included two Keene State College faculty members, who represented Keene in the midst of hundreds and hundreds of runners. The marathon started off at 8:40 a.m. and went throughout the whole day, right up until 5:15 p.m.. 
Topology and geometry professor Ockle Johnson was one of the two KSC faculty members who embarked on the 26-mile marathon, finding the journey to be successful, despite the rainy weather. 
Johnson finished 29th in the 60-64 age group with about 30,000 runners in total. He finished with an overall time of 3:28:00, describing this finish as "something he was happy about." Johnson said the Boston Marathon is an iconic race and a fun experience. 
As an avid marathon runner, Johnson has participated in three Boston Marathons and aims to run at least two marathons every year. 
Training can be extensive, but Johnson said he aims to train in a healthy and safe manner. "I try to maintain a general fitness level all the way through the fall, and then serious training begins in January," Johnson said. 
Training for a marathon always entitles long runs and the buildup to the three and a half hour mark, Johnson said. "The big thing is the long runs on the weekend," Johnson said. 
However, Johnson wasn't always a fan of running and even viewed it as a last resort to exercising before coming to Keene. "When I came to Keene, it was the exercise that fit most easily into my schedule. And then I realized that running is good for not only physical health, but mental health," Johnson said. 
That gradual growth and fondness of running eventually guided Johnson to the Boston Marathon on Monday. 
The professor still faced some obstacles while running the Boston Marathon, such as poor weather conditions and not having a plan going into the marathon. "I started running too fast because I wanted to see if I could maintain that speed and I wanted to do as many miles while it was a little nicer out. But I didn't save enough energy for the Heartbreak Hills," Johnson explained. 
This strategy didn't completely work out, but Johnson said despite not reaching his goal of top 25 in his age group, he still believes he did well considering all the factors. 
Despite the weather, Johnson said he has no regrets and feels very good about the results of the race. "A lot of it is staying in that moment and taking it one mile at a time. It's a great experience though, and inspiring," Johnson said. Much like Johnson, Donna Smyth, who is a KSC professor and Department Chair of Human Performances and Movement Sciences, also ran the 26-mile marathon, describing the experience as new. 
Smyth said that she traditionally is a mountain and trail runner. However, her qualification on a dirt road trail led her to the cement route of the Boston Marathon. "It's a large scale event and pavement is rather new to me," Smyth said. 
The weather conditions especially didn't work in Smyth's favor. "With the weather forecast I thought, 'Let's just see what happens and try to run relaxed,'" Smyth said. However, it was cold, wind-driven weather that made running that much more difficult. 
Smyth said she continued a good pace up until Heartbreak Hill, where it became unbearably cold. However, she continued to push through the cold conditions and finished the race with a time of 3:52:00. 
Despite that finishing time being higher than her usual time, Smyth said it was good considering the conditions. "I'm an experienced runner and used to aversities. I've done seven or eight trail marathons, five fifty-mile trail races, and this was by far my worst day of running," said Smyth. 
However, Smyth still remained positive throughout the entire experience and tried to encourage herself from the early hours of the morning up until the start of the race. 
"I was very grateful to have that opportunity," Smyth said. "I was thrilled [to represent Keene] and was getting some really good vibes from my students and co-workers. I was very proud to be representing Keene State College," Smyth said. 
Both faculty members faced significant obstacles due to the weather, but still found the best through the struggles and finished with confidence. 
Erin Keefe, an elementary education major at KSC, attended the Boston Marathon in support of her sister and later discovered that two KSC professors also ran in the marathon. 
Much like Johnson and Smyth, Keefe's sister also faced difficulties on Heartbreak Hill. "It was pouring and just the hills themselves are pretty tolling on your body," Keefe said. As a crowd member, Keefe said she thought moral spirit and support was somewhat low, which wasn't helpful for the runners. 
Although the weather was not ideal, Keefe said her desire to bear the weather and give her sister motivation as she took on the marathon outweighed her own comfort. 
Keefe added that she thought the idea of two faculty members being there and, in a way, representing Keene was great. "It's pretty cool. There weren't a lot of people from Keene, so knowing that people from Keene were there, it's just awesome to hear that," Keefe said. 
Although the weather on Monday made the Boston Marathon slightly less bearable, both Johnson and Smyth pushed through, crossing the finish line with well-deserved pride. 
Caroline Perry can be contacted at cperry@kscequinox.com