Bailey St. Laurent
Commentary
The focus of our Alternative Break trip was sustainability. On March 10, our group traveled to  Earthaven Ecovillage in Black Mountain, NC to devote a week to sustainable living and environmental consciousness.
Founded in 1994, Earthaven is located on 329 acres and home to 150 people on 58 home sites. Earthaven is dedicated to caring for people and the Earth by learning and demonstrating a holistic, sustainable culture. The village is self-governing and has a council and committee structure. There are many businesses operated by community members which include solar-system installation, plumbing and consulting.
The group of 10 students who traveled to Earthaven included: First-year Genevieve Joly, first-year Lauren Christie, sophomore Anna DePasquale, sophomore Sara Olson, junior Danya Guttman, junior Jenna Egan, junior Samantha Riley, senior Sarah Parece and leaders and seniors Monica Doorley and Bailey St. Laurent.
Our AB team arrived at Earthaven on March 11 and was greeted by the host family we stayed with for the duration of the trip. A family of four welcomed us with open arms and a hot meal cooking on the propane stove of their two-story, Earth-plaster home. Julia, Jonathon, and their two kids, seven-year-old Oakley and six-month old Jasper created a sense of community beyond our wildest expectations.
During the week, we worked on the land every day for six hours. This work included gardening, turning up rocks to create a pasture, constructing a drainage system using on-site materials from the forest, milking cows to make ice cream from raw milk, hoeing fields to prep for seeding, spreading compost, creating biochar to be used in gardens, clearing, hauling and burning brush, building a fence out of cut down trees, and clearing space for a parking lot and garden welcome area alongside a river.
In addition, we had a three hour long discussion with community member Chris Farmer, where we debriefed on the importance of devoting yourself to a sustainable culture and the approaches in doing so. Following the week of intensive labor, we also took part in a 3 hour reflection with our contact partner, NikiAnne Feinberg, in which we focused on being a sustainable human being attempting to navigate the busyness of life while simultaneously integrating methods of self-care.
The hard work all of the members of this team displayed was truly amazing and recognized by the entire ecovillage.
NikiAnne told us of many voicemails left by members extremely grateful and in awe of the perseverance and dedication we had to the physically demanding work we were asked to participate in.
Earthaven was immensely thankful for the work we did, but I ensure you that we were even more thankful for them. We grew as leaders, students and teammates throughout the week more than we anticipated. We met true role models for whom we had all made a connection with in different ways. Some of us were simply thankful for the fact that after a hard day out in a pasture lifting massive rocks,  we came home to the happiest six-month-old to play with and de-stress. Our work was valuable for the inhabitants of Earthaven, but this was not comparable to influence the village had on our group.
Team member Anna DePasquale had this to say, "Spending a week at Earthaven was an experience that is difficult to compare to anything else. I went in expecting to learn a lot, which I certainly did, but the life lessons that I was able to take away from it were even more valuable. Having the opportunity to see things from their perspective on topics such as sustainability, mindfulness, and self-care taught me way more than I could have ever thought.
The warm sense of welcome we all felt since day one, combined with my amazing team members and leaders made the trip unforgettable."
As a group, we plan to discuss our experiences with partners on campus to take some of the practices we learned at Earthaven and integrate them at KSC. We, as a campus, need to continue our commitment to sustainability, not because anyone is saying we have to, but because it is important.
Stephanie Jones
Commentary
Over Spring Break, eight KSC students traveled to Asheville, NC to study youth development and the importance of serving a community. We worked with the YMCA of Western North Carolina, which expanded our knowledge on our social justice issue. The mornings consisted of property work, which included painting interior rooms, clearing out and organizing storage closets, and digging out the large drainage pipe for the creek. In the afternoon, we were given the opportunity to work with children directly to be positive mentors and aid in group activities such as games and cooking.  We were also lucky to have Florida State University working and living with us for the week. They shared their knowledge on food insecurity and gave new perspectives. Asheville was an amazing city with incredible people. We will never forget that everything you do, no matter how small, will always leave a handprint on a child's heart.
Gillian Shannon
Commentary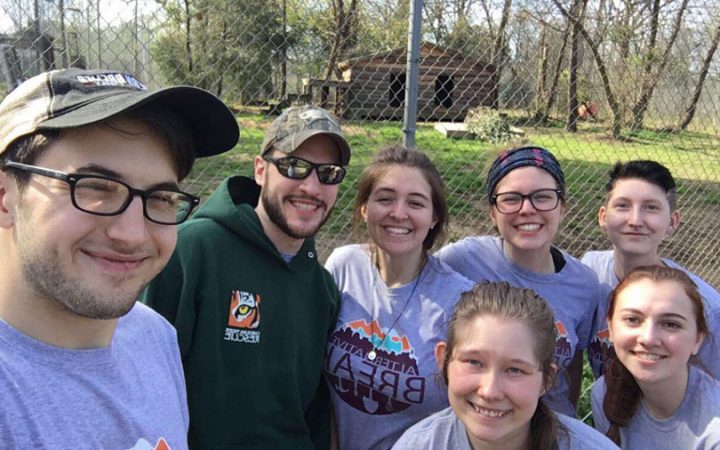 There are many reasons why I choose to participate in Alternative Break trips. Being a part of one of these trips is unlike anything that I have ever experienced. I have learned so much about myself from each and every different trip that I have been on. Originally, when I first applied to alternative break, I did so because I wanted to volunteer and help out a community. I never imagined the friends I would make, the lessons I would learn and how this experience would change my path in life. As a sophomore, I have had the privilege of going on four different alternative break trips throughout my two years at Keene State. Over the 2018 spring break I led one of these trips to Pittsboro, NC to volunteer at the Carolina Tiger Rescue. I was thrilled when I found out that I would be leading this trip with my good friend, Sydney Olson. Going to the Carolina Tiger Rescue was the first AB trip that I have ever been on and the reason why I love these trips. The Carolina Tiger Rescue is a sanctuary for exotic wild cats who have been abused, neglected or abandoned. They currently have forty-nine predators on the facility and they range from ten different species. These animals were pets, tourist attractions and one that was even used in a haunted house. Their mission statement is, "Saving and protecting wild cats in captivity and in the wild. We work toward a day when wild cats are living in their native habitat and are not exploited by humans." On this trip, we did a variety of outdoor work to help the sanctuary to run as smoothly as possible. These things ranged from cleaning out the giant freezers, gardening, setting up electric fences and taking apart old enclosures. Even though the work was often different, we were still surrounded by these incredible animals every day that we were there. We learned many things about these animals and the sufferings that they face. Many people wish to own these animals as pets but aren't aware of how dangerous that is for them as well as the animal. Even if they are raised from birth, these animals are still wild and maintain all of their wild instincts. Not to mention that a fully grown tiger playing with you could still kill you by accident very easily. It's dangerous for the animals because more often than not, the owners don't have the means to properly take care of them. Without having the funds and knowledge that it takes to care for one of these animals, they are often neglected and suffer from malnourishment. An example of this at the rescue is Elvis the serval. He was abandoned in a dog crate on the property with a note stating that he became too large to continue being a pet. Elvis was incredibly underweight and in very poor condition. Part of the experience of going to the Carolina Tiger rescue is being educated about why sanctuaries like this have to exist and why we need to do what we can to prevent more of these stories. I would highly recommend going on an alternative break trip to anyone that is willing to work hard, expand their knowledge and break out of their comfort zone. It is incredibly rewarding to be part of these trips and I can't wait to go on more.
Olivia Belanger
Equinox Staff
The city of New Orleans, Louisiana, is vibrant and lively, from listening to live jazz on every corner, indulging in spicy foods to conversing with the people submerged in the culture. However, one could be easily fooled by how upbeat the community has stayed after Hurricane Katrina and not realize how much damage is still there. As a volunteer with the United Saints Recovery Project over spring break, I was able to hear the heart-breaking backstories of those impacted by the storm who may go unnoticed.
Driving to our volunteer service in the lower ninth ward, there was empty lot after empty lot, where houses used to be filled with neighbors, friends and lovers. In certain areas, you would think the storm happened a few weeks ago. When Hurricane Katrina struck New Orleans, it overwhelmed several of the city's unstable levees and drainage canals. By nine in the morning, the low-lying places, such as the ninth ward, were under such massive amounts of water that people had to scramble to attics and rooftops for safety. Eventually, nearly 80 percent of the city was under some quantity of water. The rebuilding of the city has been ongoing since 2005, and I was able to be a part of it. I worked on one of these houses in the span of a week, with seven other Keene State College students. We became carpenters overnight, between ripping off roofs, putting up tar paper and then siding on the back half of the home. We also volunteered at a no-kill animal shelter and stepped in for a community clean up in a neighborhood that was neglected by the city.
The home we worked on was owned by a woman who struggled to house several other family members. While her situation was not ideal, she did not let it define her. She was rooted in kindness, constantly asking our group throughout the work day if we were okay or if we needed anything. It truly put into perspective that happiness is not found in material things. Meeting people with such appreciation for what they have, no matter how small, proves all that we take for granted.
Alternative Break allowed me and other students and to step out of our own world, where we have been given everything we could ever ask for, and dive deep into another. It shows that some of the most positive people have been through hell and back, but use their experience for the better, rather than the worse. No matter the battle you face, there is always a chance to see the good in any situation. You can always rise above.
Olivia Belanger can be contacted at obelanger@kscequinox.com