There are moments in most people's lives in which they must decide whether they will spend the rest of their lives doing what they love or working in a cubicle the rest of their life.
For Keene State College junior Kyle Wilson and KSC alumnus Brendan Reid, glass blowing is more than just a hobby.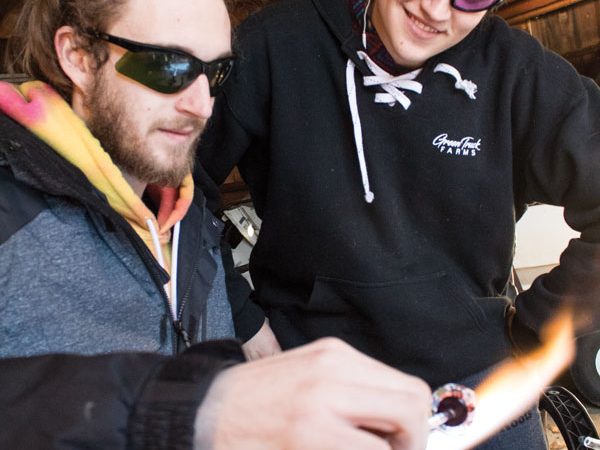 Wilson said, "Honestly, I've always been into glass and I hate spending thousands of dollars on pieces. I want to make them… January 18, 2017 was the day I lit my first torch," Wilson said.
Reid started collecting glass pieces before he came to college.
"We both have been into the glass collecting scene, so that helped as the biggest influence I'd say," Reid said. "I've invested a lot of time and money into different pieces and I've met different artists."
Wilson and Reid have been roommates and good friends for about three years.
Together they have collaborated on pieces, whether it was giving advice on certain pieces, constructive criticism or assisting each other with jobs that take more than two hands.
"It's a lot of heat and a lot of patience," Wilson said. "I'm doing this for the rest of my life."
Wilson said he wants to incorporate glass blowing into his graphic design course.
There are styles of glass blowing that incorporate smaller 3-dimensional images inside the glass making a design come to life, and still others that use photoshop and the shape of the glass piece to make one unique shape.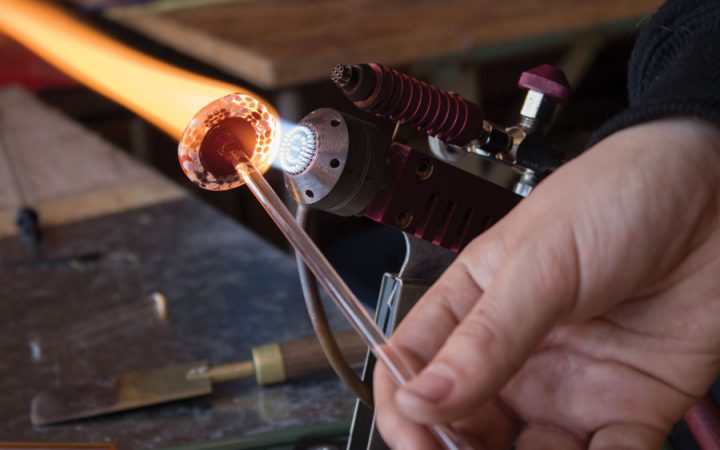 Reid graduated with a BA in Sustainable Product Design and Innovation (SPDI); Knowledge from which Reid said he uses for some of his personal work.
"They definitely go hand in hand. A lot of the production design is about different materials. I mean you spend a whole year learning about different types of materials," Reid said.
Wilson said, "I bought all the equipment before I had a place to [blow glass] so I just said 'The day I do have a place to do it I won't have to buy all the equipment. I'll have it already.'"
Reid said, "SPDI is a lot of innovation – The I at the end of SPDI. It's a lot of just putting yourself out there and presenting your own stuff… we've done a couple of little festivals, nothing too big, I mean, we've sold our pieces at a couple little stores around town too."
Glass blowing takes focus, planning creativity and care – virtues Wilson said he tries to apply to himself as a person on a day to day basis.
"I feel like being at the torch brings that out in me," Wilson said.
Wilson said professional glass blower Mike Gong is Wilson's biggest inspiration for his work. "Something about his work makes me feel like he's my favorite artist… He's got such a unique style."
Reid said, "When it comes to the art side of [glass blowing], there are people who do the really psychedelic style pieces and then there are people who make more of a sculpture styles."
Gong did not respond in time to make a comment.
Reid said glass blowing is generally thought of as an unprofessional art.
"But you have to look at it in a professional manner," Reid said. "Just knowing that I have this ability just here now I need to just do it. If I don't do it I'll end up kicking myself."
Sebastian Mehegan can be contacted at smehegan@kscequinox.com