In the Owls baseball season, which has been filled with wet fields, game cancellations and a shortage of home games, senior pitcher Michael Crimi has remained calm and focused as he is having the best season of his collegiate career.
The Owls' ace got the top spot in the pitching rotation this season and has helped to keep the team in contention for a spot in the Little East Conference (LEC) tournament.  Crimi has three wins, one loss and two no decisions in six starts with a 2.23 earned run average and is averaging about 10 strikeouts per nine innings. He leads the LEC in total strikeouts with 45, according to the LEC website as of April 10.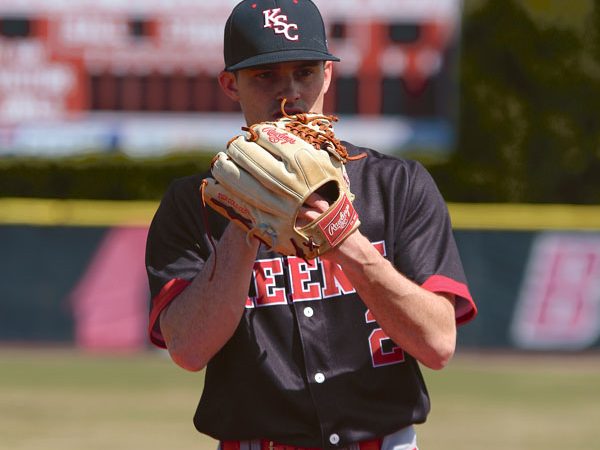 Owls Associate Head Coach and Pitching Coach Marty Testo said the role as the Owls' top starting pitcher is a role that is well-deserved after years of Crimi having to prove himself and hone his craft.
"Michael has worked extremely hard to be put in the situation that he's in and he's had many different roles over his years for us. It hasn't been easy for him," Testo said.
Testo added that Crimi initially had a hard time with aspects of his game, like throwing strikes, and had to adjust to the differences between the high school and college level of play. Now, he said that work is coming to fruition.
"I kind of see that Michael has really matured as a pitcher and puts a ton of time and effort into his craft and I think you're starting to see it pay off for him," Testo said.
The first-year walk-on turned senior ace said he's trying to fill the shoes of those who came before him, like Cody Dube, who was drafted last year after completing his senior season. Still, Crimi said the role he is in now is one he's wanted since he made the choice to join the team.
"I mean growing up, that's always what you dream for. You always want to be the guy to go to," Crimi said. "I think that was always the goal. When I do things, I try to do them to my best. If I'm going to do something, I'm not going to half-work the effort. I'm not going to be half in, half out. So once I decided I really wanted to play, I really wanted to be the best that I could be and thought that it would be foolish not to go out [and] work for four years, do your best, give it your all and have no regrets when you look back."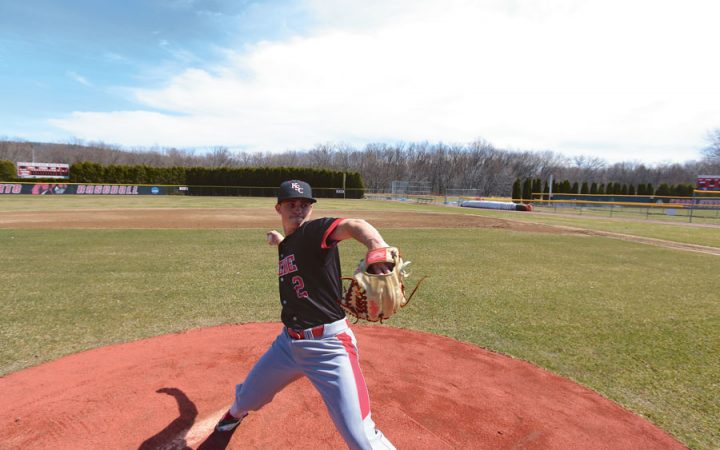 KSC sophomore and catcher for the Owls Nate Rossi said he had heard about Crimi before coming in as a transfer from Southern New Hampshire University this year.  He added that he was quickly made aware of what Crimi was capable of after the team's first game against Clark University. Crimi allowed just two hits and struck out seven in seven innings of work according to the Keene Owls website.
"That's when I realized. I was like, 'Wow, this kid is really, really good,'" Rossi said.
With a young pitching staff watching, Crimi said that he is trying to show them that it takes hard work to play at a high level.
Rookie Pitcher Andrew Houde said Crimi has set an example for him and others on the team as they try to improve.
"He's our ace for a reason. He's a leader on the mound. That's what I was told when I was coming here," Houde said. "He's helped me tremendously. Days after I pitch, he shows me what kind of work I need to do [and] how to prepare for games.  He's an all-around great leader for the whole team to kind of watch and get ideas from on how to go about their business."
With just weeks left in the regular season, Crimi said he hopes to keep playing well to help the team win games. Testo said the team will lean on Crimi as it tries to make a final push for the LEC tournament and that the expectation of Crimi's impressive play will remain the same.
"We expect Michael to go out there and be dominant every Saturday for us and that's not pressure, that's what we expect from him because that's what he's proven he can do," Testo said.
Nonetheless, Testo showed confidence in his number one pitcher.
"I wouldn't want anybody else on the mound for us in our league except for him at game one and I love all our pitchers, but Michael has earned a right to be the dude for us."
Jacob Barrett can be contacted at jbarrett@kscequinox.com