Throwing in a film, popping popcorn and settling down for a movie night can be a fun weekend event, but one college student said this weekend routine becomes boring.
 "Movie nights are fun a lot of the time . . . sometimes it can get really monotone, just sitting in your dorm doing homework," Margaret Hislop said.
Hislop is a sophomore at Susquehanna University in Pennsylvania. She said their on-campus dance club TRAX is a great place to meet people and get out of the dorm.
"[It's like a] dance party. Usually there is enough room to move around, they have a light systems like strobe lights and colored lights and just disco ball things . . . People just dance the whole time and hangout," Hilsop said.
At the school of roughly 2,000 students, with most people living on campus, the school is very different from Keene State College's population of over 5,000 students with many off-campus residents.
"We don't have off-campus housing . . . So we are definitely a lot quieter than Keene State.  A lot of my friends go to Keene . . . I know you guys are inherently louder," Hislop said.
Despite the school's differences some KSC students said an on-campus dance club would be successful.
Sophomore Tatiana Fernandes said an on-campus club would facilitate a safe spot to socialize.
"I think that's a good idea. I feel like I could see more people that I don't usually see," Fernandes said.
Many KSC students said they feel the need to go out because their friends do. Shahar Resmen, a junior at KSC, said though he spends most of his time training for the swim team, he makes time to go out to maintain his friendships.
Amanda Guthorn, the director of Campus Safety at Keene State College said she agrees that there is a need to design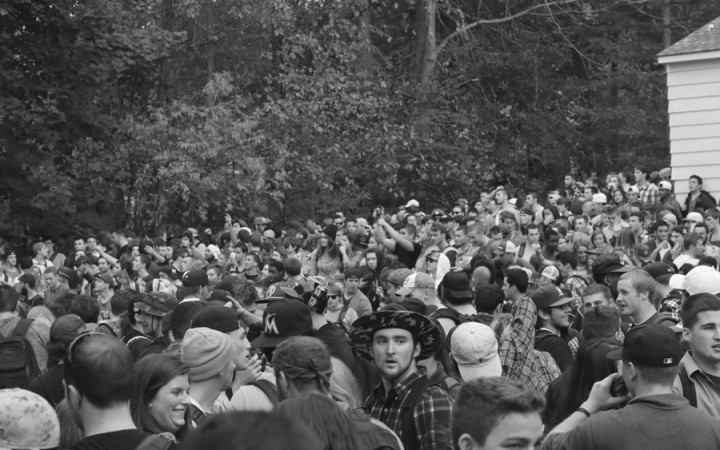 a space for students to safely party.
"I definitely think there is a need for some type of alternative for students going off campus, whether it's a dance club or some other type of facility for students to go to," Guthorn said.
Guthorn specifically identified the need to create a space for students who have not yet reached the legal drinking age.
"I think there is a need for some place on-campus for students to go and gather where they don't have to be twenty-one in order to have a good time," Guthorn said.
Hilsop said TRAX is great for first-years and sophomore students still looking to make friends and provides a perfect safe party scene.
"It gives a good space for people who want to go party . . . It's also for those students who want to meet more people but don't want to feel like they have to go to [off-campus house] parties," Hilsop said.
TRAX is open from 10 p.m. to 2 a.m. and hosts many events sponsored by clubs, fraternities and sororities.  The dance club is supervised by student staff, which Hilsop said provides a safe, controlled atmosphere.  There is also free alcohol served to of-age students every hour.
"So everyone who is over twenty-one can leave their ID and get a bracelet and every forty-five minutes get a free drink and it's a cup of what ever you want," Hilsop said.
The students at Susquehanna University are able to get drinks, but in a controlled fashion.
  "It's not like a bar where you can get what ever you want.  It doesn't let it get too out of hand.  They aren't serving you cup after cup after cup," Hislop said.
KSC junior Mackenzie Kelm said alcohol would be an incentive to make an on-campus dance club successful.
"I think if you provided a spot that would provide alcohol and you would need to show your ID and stuff like that and only eighteen plus could get in.  I think that kind of incentive would work," Kelm said.
She went on to recognize the drive to drink.
"I think unfortunately people on Friday and Saturday night just want to drink so if they had a place they could safely drink I think that would work and they'd want to go," Kelm said.
Guthorn also raised the question about the need to provide alcohol in a dance party space.
"The key thing is that alcohol does not have to be served at every events. Is that the kind of business we want to get into?" Guthorn asked.
Anna Glassman can be contacted at aglassman@kscequinox.com