Courtney Parsons
Study Abroad – Spain
I've never thought of myself as the kind of person who would study abroad, but here I am in Spain.
My adventures have been nothing short of amazing so far. I'm just completing my third week of living here and it feels like I've already experienced so much.
  I have already traveled to the beautiful city of Ronda and lived through a crazy night in Cadiz for the "Carnival."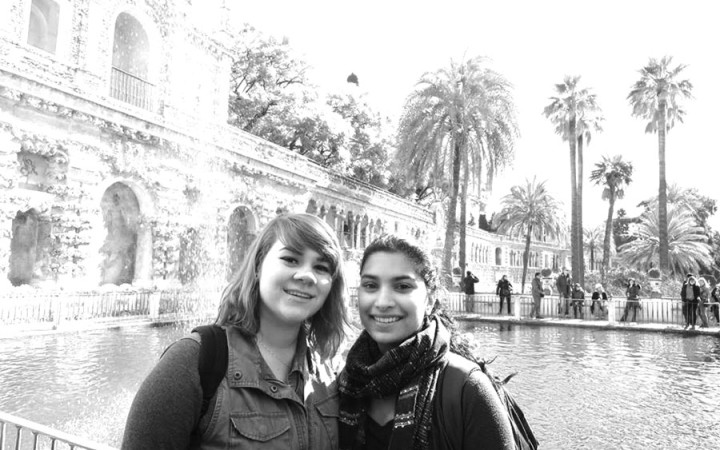 I decided to study in Spain because I have a love for the language.  Before I had never been confident in my ability to communicate in Spanish, however, that has already completely changed and I now feel much more confident in my skills.
One of the biggest reasons why I've gained so much confidence is that I talk with my host mom all the time and she helps me out so much. I really do think that I got lucky with my housing because my "señora" is so sweet and an amazing cook. We eat so much different and delicious food here and I can't wait to share recipes I've learned with my family and friends when I get back to America.
There's a lot of things about the culture that are quite different from back home.
I think one of the biggest changes is the nightlife.  For example, showing up to a bar, or "discoteca," before midnight is considered way too early. The night usually lives on until about five or six in the morning, which is definitely a huge adjustment. One of my favorite things about Spain is that it's completely acceptable to nap in the middle of the day.
We have a period of time every day from 2:00 p.m. to 5:00 p.m. when everything is closed. It is called a "siesta" and everyone just goes home to relax. I think the real adjustment is going to be coming back home and not having siestas.
Being immersed in the culture the way that I am is just so amazing. Everything here is also so beautiful, it's hard to believe that people here get to experience this all the time. Just walking to class I see so many picturesque sights.
I cross a river and walk past the Catedral de Sevilla, which is a huge cathedral with incredible architecture.
My mom commented on how amazing my pictures are that she sees on Facebook, but I really don't think I can take the credit because everything is already so beautiful here — the pictures don't even do it justice a lot of the time.
I definitely made the right decision in choosing to come to Sevilla for the semester. However, I'm definitely missing a few things from home. I think one of the things I'm missing the most is the ability to take showers for longer than five minutes with hot water. Other than that though I can't really complain about too much.
I miss my wonderful parents and all my friends and I can't wait to share stories about my adventures here with them once I'm back home. I'm very excited for May to come around, when all my classes are finished and my family comes to visit and spend 10 days traveling around Spain with me. I also have plans to travel to Granada, Córdoba, Morocco and Gibraltar in my next few weeks here.
My advice to anyone who has the opportunity to study abroad is to do it — because who knows when you'll ever get this chance again.
It really hasn't been as hard as I thought it would be to adjust and I can't wait for what's to come.