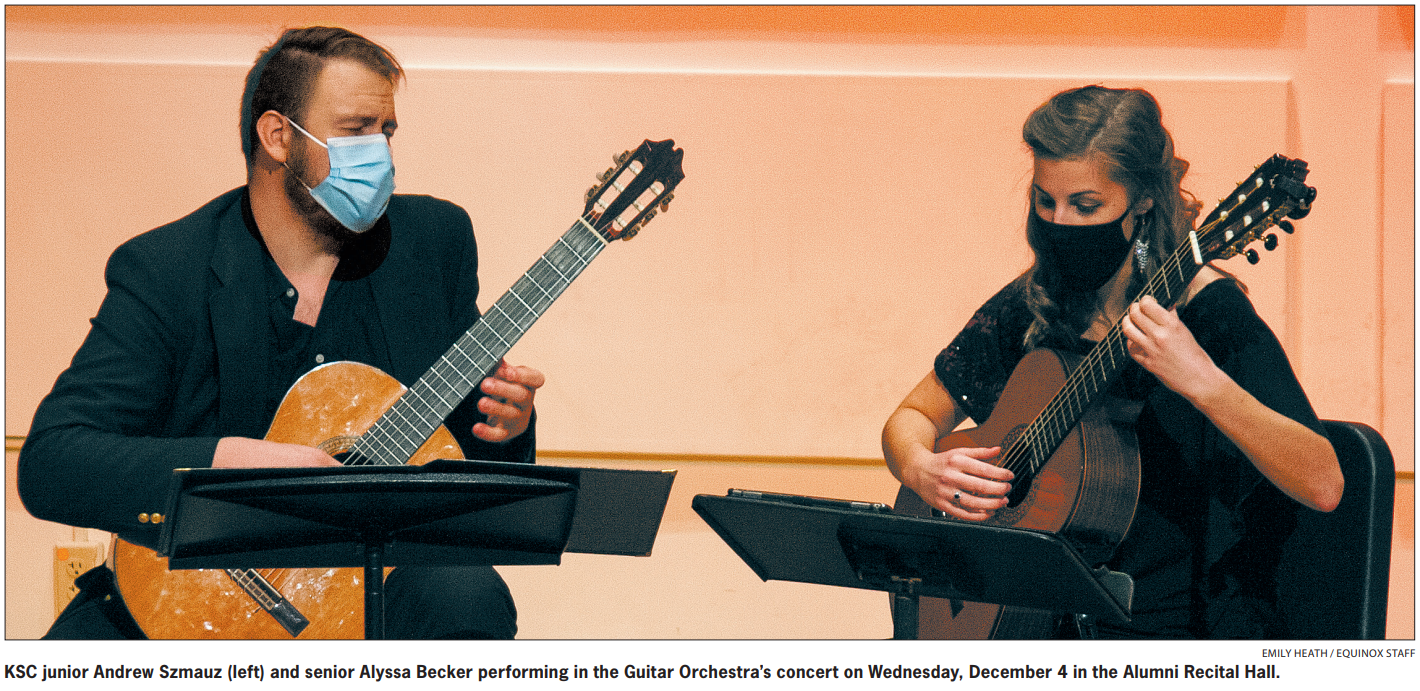 The Keene State College (KSC) Guitar Orchestra performed a concert on December 1 called, "From Brazil to Beijing: Music of Five Centuries and Four Continents."
The performance included five pieces originating from four continents. Keene State College's Redfern Arts Center hosted the five student performers and Dr. Jose Lezcano, the ensemble director.
The group included KSC students senior Alyssa Becker, junior Andrew Szmauz, first year Austyn Klang, senior Zach Dafeldecker and Sandy Perron, who's a member of the Keene community that joined the ensemble. The works performed were from a selection of composers and arrangements of folk music from Colombia, China, Ireland, Chile, Mexico, Argentina and Spain.
Becker was the first chair in the Wednesday night performance. She and her fellow chamber members had been practicing all semester for their performance. She said Lezcano chose all the pieces they played for the concert. Becker said, "There's an art to having a good program… It's got to be interesting."
The duet Becker and Szmauz played was of Brazilian origin. The pair have been playing together for three years and have practiced together for the majority of their prep time.
"When you have something like a duet, it's important to nail down your own part first," Becker said. "[Practicing together] really relies on communication and body language and good dynamics and feeding of of each other's energy."
Becker said the members of the Guitar Orchestra put in really detailed work to prepare for their performance, saying they practice for four hours together a week and use up all their practice time. Becker said that the group uses a "straight run-through" approach to their music leading up to a performance, so they are comfortable with performing their program. It's after they run through all their music that they start to break down the music into more detailed practice, making sure to improve their technique as they go. After the performance, Becker said there were moments she personally thought she could have improved but nothing that was obvious to the audience members. She referred to it as "picky musician things."
Their performance welcomed a live audience. Becker said the audience was something the ensemble was very happy about. She said the live audience and their applause gives the musicians a sense of fulfillment, and that it's rewarding to know people are enjoying their music.
Lezcano shared high praise for the ensemble's performance. Lezcano said he wanted his group to be "quite challenged" in their practice so he tried to mix the difficulty of the music to try to highlight the different capabilities of the students.
Lezcano noted the small group size gave the members an opportunity to be more individually responsible for their music. He said the hard work of the members benefitted the performance, and they benefit each other.
Both Becker and Lezcano said the performance was a success because of the member's dedication to their craft. The members of the ensemble are looking forward to future performances and sharing music with a live audience. Lezcano said, "I think it was close to one of the most precise performances they've put on. It was musical."
Abby Provencal can be contacted at aprovencal@kscequinox.com