KSC senior presents a labor of love in her final recital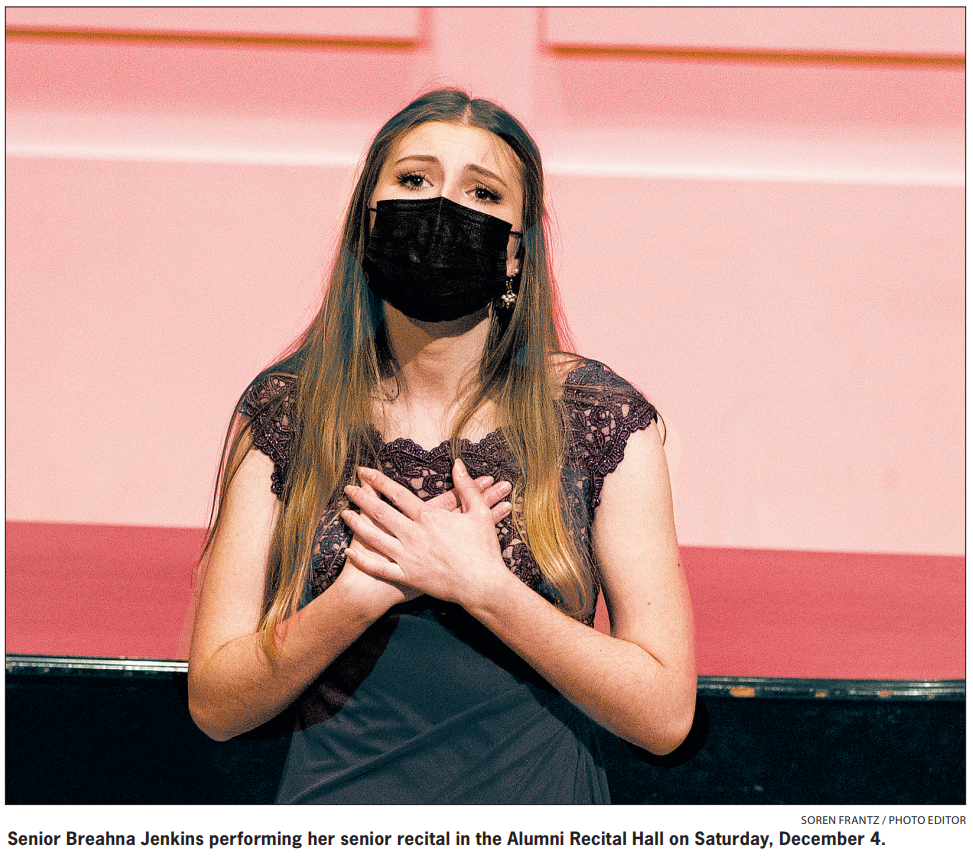 In her senior recital, music education student Breahna Jenkins took audiences through the journey of love.
Jenkins' recital was broken into three sets, each describing a different stage of love: the butterflies of first love, heartbreak, and ending with healing and coping with loss of love.
In selecting this theme, Jenkins said she wanted to give audiences a musical experience they could relate to. "Everyone knows love, everyone knows heartbreak. It's something that we all experience," Jenkins said. "So I really want to give the audience something that they would be able to feel."
In the first set, Jenkins performed a total of five pieces. One of those pieces, titled "My Ship," told the story of a woman waiting for her husband to return from war.
"She's daydreaming about the day she gets to see him again. It's just really whimsical and just really dreamy," Jenkins said.
For the four pieces in the second set, Jenkins transitioned to the next stage in the journey of love: heartbreak. Jenkins said the pieces under the umbrella of heartbreak describe "that feeling you get when you have your first heartbreak; that anger, that frustration, that pain."
Jenkins noted "Gretchen am spinnrade" by Austrian composer Franz Schubert as the standout piece from the heartbreak set due to the storytelling through both vocals and piano. "She's actually, in this piece, on a spinning wheel and the piano takes the role of the spinning wheel. You can hear her frustration through the piano and through the singer and the voice," Jenkins said.
Rounding out the recital was the final stage of love: grief and healing. Jenkins ended the recital with a piece titled "I'll Be Here," which she said tells the story of losing someone on 9/11.
"[It's about] this girl, her journey of grieving and healing and being able to find love again," Jenkins said.
Despite being masked throughout the duration of the performance, Jenkins showed the distinct emotions of each piece through her eyes and hand and arm gestures.
Throughout her time at Keene State, Jenkins has been working alongside her vocal teacher, Dr. Daniel Carberg, to develop the repertoire for her senior recital. Jenkins said she selected pieces that she previously worked on during her four years at KSC and put the senior recital repertoire together.
"It was kind of a collaboration of getting recommended songs by my teacher, but also when it comes to my senior recital, that was all me figuring out what I want to give to the audience," Jenkins said.
Jenkins reflected on her time studying at Keene State, "I'm so thankful that I had this experience and that I came here."
She continued, "I learned so much about my own voice. Me as a person and my confidence in singing and performing in general has gone [up], like it's skyrocketed. It's been a beautiful experience for me and it has made me grow as both a person and a musician."
Jenkins performed her senior recital on Saturday, December 4 in the Alumni Recital Hall. After the final piece of the recital, Jenkins was met with a standing ovation from the audience of friends, family and other KSC community members.
Pianist Vladimir Odinokikh accompanied Jenkins for the recital. Carberg did not respond to The Equinox's request for comment.
Caitlin Howard can be contacted at choward@kscequinox.com