Masking non-compliance goes against school, LEC requirements
Keene State College recently started allowing spectators to attend indoor games.
However, at these indoor games, The Equinox has been noticing students and staff not wearing masks properly, if at all.
"In volleyball, I would say that the wearing of masks was as close to 100% as possible. I would say, in swimming, with the very limited amount of capacity that we have to host special guests or spectators at swimming, that's also been very, very compliant. We had one women's basketball game on a Friday evening that, again, was a high level of compliance with the masking requirement," Phil Racicot, KSC athletic director said.
Racicot noted that the November 9 basketball double header saw people not wearing masks properly. "[It's] a bad reflection on our student population, because the vast majority of those folks who were not wearing a mask properly, despite the numerous signs when entering the building and numerous announcements that were made throughout the game, and personal reminders provided by athletic staff, those folks who were not 100% compliant with that were our own students actually," Racicot said.
Racicot clarified that all spectators need to wear masks, as well as student athletes who are sitting on the bench.
"The NCAA recommendations in the LEC protocols are both in sync. Essentially, while you're actively participating in the game in the warmups, you don't have to wear a mask, while on the bench in that bench area, that you should be wearing a mask," Racicot said.
Racicot said that following the November 9 double header, "I did speak to both coaches about the masking requirements in the bench area, because I don't think we did a great job with that."
Racicot said that if masking cannot be done, there will be consequences "for teams and athletes that aren't compliant with that request. It's not a request, it's a requirement."
KSC President Melinda Treadwell, who is also the chair of the presidents council of the LEC said, "I will clear the venue. We will not have spectators if we can't have masks worn."
"If [the athletic department] tried and they can't manage to hold those requirements, then we'll clear the space. There'll be no spectators. Period. Simple. That's non-compliance with the Little East, it's non-compliance with our protocols and we won't tolerate it," Treadwell continued.
Treadwell said that if spectators are going to be the problem at games, then there will be no spectators.
Treadwell said, "If we allow people to not have masks on in a gymnasium where they're screaming and cheering. It is just antithetical."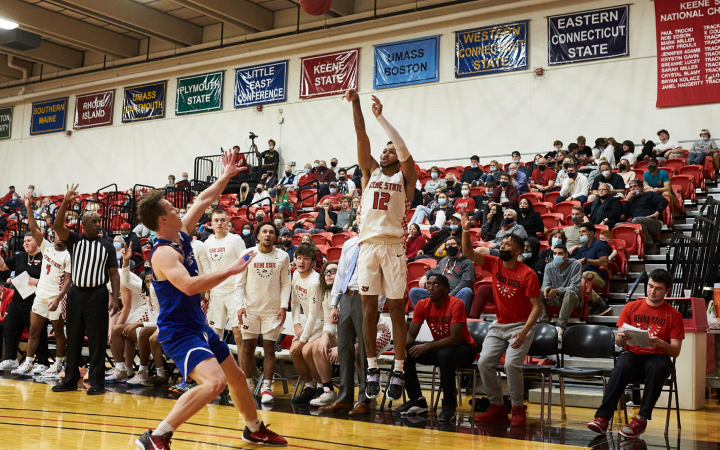 Tom Benoit can be contacted at
tbenoit@kscequinox.com