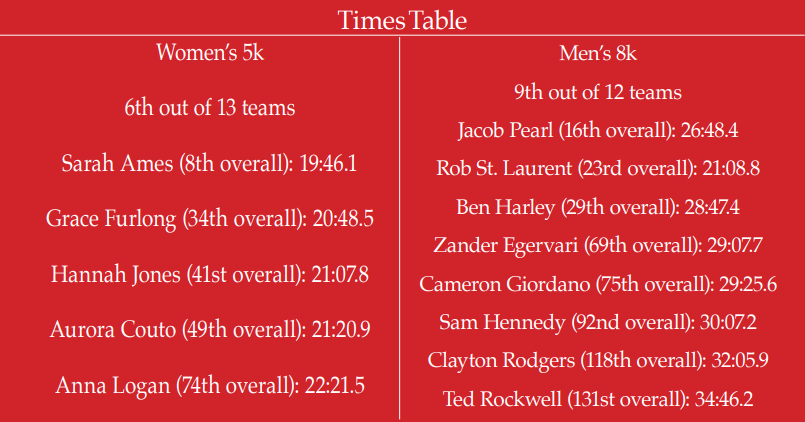 On Saturday October 2, Keene State Cross Country hosted the Keene State Invitational at the Cheshire Fairgrounds in Swanzey, New Hampshire.
Top performers of the meet are as follows, starting with the women's team:
First-year Sarah Ames gave her strongest performance this season so far, finishing as the highest placing LEC runner and eighth overall in the field out of 120 runners, finishing with a time of 19:46.1.
Senior Grace Furlong was in 34th place with a time of 20:48.5 and junior Hannah Jones finished in 41st with a time of 21:07.8. Firstyear Aurora Couto finished not far behind in 49th place with a time of 21:20.9 and firstyear Anna Logan finished in 74th place with a 22:21.5. Sophomore Juliana Yialiades (93rd, 23:37.6), first-year Autumn Boisvert (94th, 23:46.0), sophomore Rhea Votano (97th, 24:00.5), sophomore Sarah Christian (103rd, 24:28.1), and sophomore Melanie French (115th, 28:38.7) also had top finishes for the ladies.
For the men, junior Jacob Pearl was 16th overall with a 26:48.4, competing against 143 other runners. Senior Rob St. Laurent wasn't far behind, finishing in 23rd place with a time of 21:08.8. Keene State first-year's Ben Harley and Zander Egervari also finished nicely with Harley finishing in 29th place with a time of 28:47.4 and Egervari finishing in 69th place with a time of 29:07.7. Senior Camerson Giordano also had a strong finish, ending in 75th place with a time of 29:25.6. Sophomore Sam Hennedy (92nd, 30:07.2), first-year Clayton Rodgers (118th, 32:05.9), and first-year Ted Rockwell (131st, 34:46.2), also all took the course for the Owls and had strong finishes in this meet.
Owls will be racing again next week at the Open New England Championships at Franklin Park.