KSC theater and dance welcomes a new costume and set designer
Originally from Paris, France, Calypso Michelet came to the United States four years ago to pursue a masters degree in set and costume design.
Michelet said she studied theater and performing arts during her time in France and moved to the United States to further her studies.
After doing costume design on a production of Mozart's opera "Don Giovanni" in France and experiencing the design elements first-hand, Michelet said she shifted her focus to design. "I realized that I really liked the handson and designing aspect of it, so I decided to do a costume building program in France and then really focusing after that on design aspects," Michelet said.
Prior to her arrival at Keene State, Michelet was studying at the University of Massachusetts (UMass) Amherst, getting her masters in set and costume design. Michelet said she centered her thesis around Victor Hugo's novel "The Hunchback of Notre-Dame." Although the original novel was written in 1831, Michelet connected the piece to today's political conditions.
"I wanted to work on a show that would reflect on the current political landscape," Michelet said. "You have this ensemble, who are basically castaways, refugees and homeless people, coming to the streets of Paris and who have been rejected by the other characters and forced to go away by the police. So it was all reflecting on police violence and the refugee crisis."
The timing of the Notre Dame burning in 2019 also brought Michelet to explore the idea of societal reconstruction. "I also wanted to play with the set with the idea of having a world in reconstruction and reflecting on the idea of what is this world that we want to be rebuilding together," Michelet said.
When Michelet was defending her thesis last summer, Celine Perron, then-department head of the KSC theater and dance program, reached out to Michelet about a teaching position at KSC.
"I'm a graduate of UMass Amherst, the design program over there, [and] I was looking for a costume design teacher and I called the costume foreman over there and asked her if she had any names," Perron said.
Perron said the range of skills evident in Michelet's portfolio drew her to selecting her, believing she could benefit the department as a whole. "Not only is she a costume designer, but she's also a set designer," Perron said. "I like that she has a broad view of design. When you design one area for the stage, if you really understand or know the other area, your design is better informed, it will be more cohesive with all the elements."
Michelet is joining the team of theater and dance faculty this year, both as a designer for shows and professor. In addition to teaching a costume design course this semester, Michelet will be assisting other theater and dance faculty in the design process for the productions set to debut in the spring. "I'm going to be designing the costumes for the Evening of Dance and costumes for the third show of the year," Michelet said.
Above all, Michelet said she is looking forward to working with the students. "I really enjoy working with the group of students here, because they already know each other and they're all interested in different things about theater, not necessarily costume design but they're all really enjoying working together and getting to do some creative work," Michelet said.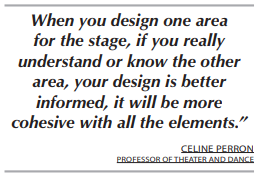 Perron emphasized the importance of bringing in guest artists to work with students. When Perron hired Michelet to work for theater and dance, she said her main focus was the students. "It's important that the students have somebody else," Perron said. "Having somebody that could approach the same thing in a different way, it's much better for the students that they could see the multiple ways to see something."